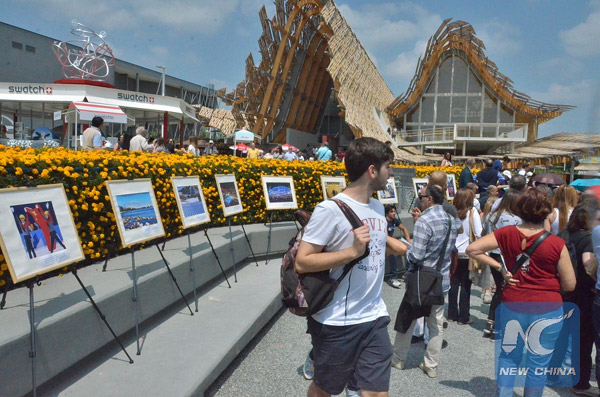 A photo exhibition on Beijing's bid for 2022 Winter Olympic Games kicks off in the landscape garden outside the China Pavilion of Expo Milano 2015 to show photos of winter venues and achieved results by Chinese athletes, in Milan, Italy, on May 30, 2015. [Photo/Xinhua]
Beijing's bid for the 2022 Winter Olympics has earned positive feedback in an International Olympic Committee report.
The report, released on Monday by the International Olympic Committee's evaluation commission, which visited the two candidate cities-Almaty, Kazakhstan and Beijing-this year for inspections, cited Beijing's rich experience and abundant facilities for hosting the Olympic Games.
Beijing 2022 has the key elements in place to host a highly successful Winter Olympics, thanks to the experience and expertise gained from the 2008 Beijing Summer Games and the 2014 Nanjing Youth Olympics, the report said.
Wang Anshun, mayor of Beijing and president of the Beijing 2022 Bid Committee, said the positive evaluation has boosted Beijing's confidence to deliver successful Olympic and Paralympic Games in 2022.
"Our strong desire to host the Games in 2022 has received a significant boost from today's IOC evaluation commission report, which recognizes the bid's strengths, including world-class sports venues and infrastructure with identified legacy use, huge market potential, tremendous public and government support, a legacy plan closely linked to a regional economic development plan and a strategy to develop winter sports and related industries," he said on Monday.
Beijing's vision to promote winter sports among 300 million people in North China, which would ultimately improve overall fitness and health across the country while boosting the winter sports market, was also highlighted in the report.
The report also underlined other strengths of Beijing's bid, including full government support and high public support, a truly sustainable Games concept based on existing facilities, delivery certainty boasting strong financial guarantees and huge marketing potential.
"It has been a boost for our bid that the IOC evaluation commission has praised our work in the areas that we consider central for our bid, such as our focus on athletes, sustainability and cost-efficiency," Wang said.
For the Almaty bid, the report said that Almaty's vision for the Games is rooted in the desire to accelerate economic and social reforms, build on the country's winter sports heritage, and showcase the positive aspects of Almaty and Kazakhstan.
Some challenges that Beijing might face in 2022 were also noted in the report, such as the lack of natural snowfall in proposed alpine skiing areas in Yanqing county and the poor air quality that has affected large regions in North China.
To address the air pollution issue, Beijing has introduced a number of government initiatives to tackle pollution by relocating or shutting polluting industries, increasing clean energy use and reducing traffic-related emissions.