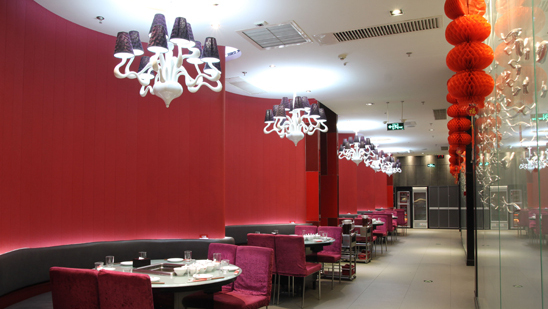 Enterprise: Sichuan Haidilao Catering Co., Ltd. [Photo/chinadaily.com.cn]
A popular hot spot restaurant became one of the first businesses in Beijing to receive a notice for violating the new tobacco control regulation, which took effect on Monday.
The restaurant, a chain of catering group Haidilao, in Chaoyang district, was urged to correct irregularities, including by putting up no-smoking signs that list the hotline number to report violations and stopping customers from smoking, said Liu Ying, a law enforcement officer from Beijing Health Inspection Bureau who inspected the restaurant on Monday morning.
Wang Bin, owner of the hot pot restaurant, said they will comply with the regulations.
Liu said the restaurant should provide more education to restaurant employees.
"Waiters can report smokers to us through the hotline number, 12320, if smokers don't follow their request to stop smoking," she said.
Liu said the inspectors will come back to check the restaurant again and may impose a fine if it fails to comply, according to the regulation.
Most of Beijing's 1,000 health inspectors were dispatched to key places such as restaurants and hospitals for inspections on Monday, and notices were issued to some business owners, said Wang Benjin, deputy director of the bureau.
Those who received notices should comply with the regulation or they will be fined.
The regulation bans smoking in all indoor public areas and workplaces, and in some outdoor public places including kindergartens, primary and middle schools, historical and cultural sites, and maternal and child health facilities.
Violators will be fined up to 200 yuan ($32), a substantial increase from the previous 10 yuan penalty. Owners of businesses classified as public places could be fined up to 10,000 yuan for ignoring customers who smoke indoors.
"We will conduct extensive inspections focusing on key places in the next few days," Wang said.
Yang Gonghuan, a tobacco-control campaigner, said sustained law enforcement is crucial to effective implementation of the regulation.
Wang, deputy director of Beijing Health Inspection Bureau, said the limited number of health inspectors means it is impossible for them to cope with more than 1 million businesses in Beijing.
"We can only select the key places to check and hope more people will follow the regulation voluntarily," he said. "Other government departments may join us for inspections in the future."