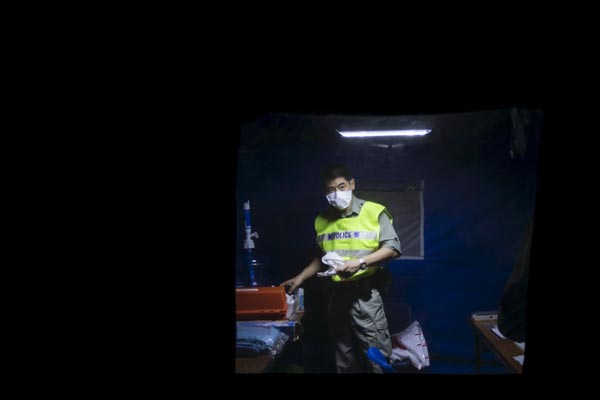 A police with mask stands guard outside Lady MacLehose Holiday Village in Sai Kung, where people who came into close contact with the South Korean MERS patient will spend two weeks in quarantine, in Hong Kong, May 29, 2015. [Photo/Agencies]
GUANGZHOU - The number of people who have close contacts with China's first Middle East Respiratory Syndrome (MERS) patient rose to 47 on Saturday, local health authority announced on Saturday night.
The man from the Republic of Korea (ROK), who was tested positive for the deadly MERS in South China's Guangdong province on Friday, is still quarantined and receiving treatment at a hospital in Huizhou city, according to the provincial health and family planning commission.
He has got fever but is in stable condition, according to the commission.
Nine passengers who had close contacts with him reported to the commission after it issued a public notice on Friday, bringing the number of people who have contacts with him to 47. They are all under medical observation in isolation.
The man, 44, flew from the ROK to Hong Kong on Tuesday and entered Huizhou city via Shenzhen. He had close contact with MERS patients at home and expressed discomfort as early as May 21.
The patient is the son of the third confirmed MERS case in the ROK and the brother of the ROK's fourth confirmed case.