13 percent of physicians and nurses have been injured by patients, according to white paper
More than 70 percent of doctors in China have suffered verbal abuse or physical violence, according to a white paper released by the Chinese Medical Doctor Association.
The paper on the status of the profession, released on Wednesday, is based on the results of surveys conducted over the last six years that questioned 9,524 doctors in more than 10 provinces, municipalities and autonomous regions of China.
About 60 percent of doctors and nurses have suffered verbal abuse from patients or their families, and 13 percent of doctors and nurses have suffered physical injuries, according to a survey conducted by the association last year, which covered 2,638 doctors.
Cases of physical injuries to doctors and nurses caused by violence from patients has been rising since 2009, the association said.
More than 60 percent of doctors in China do not want their children to follow in their footsteps because of the excessively heavy workload and lack of a sense of security, according to the white paper.
"We hope the white paper can help society to have a better understanding of the environment of physicians and help contribute to improved relations between doctors and patients," said Zhang Yanling, president of the CMDA.
"Society should create a better environment for doctors, including increasing their income and building better relations between doctors and patients, so the career can attract top talent," he said.
Deng Liqiang, the CMDA's director of legal affairs, said some patients in China have unrealistically high expectations for medical techniques and tend to blame doctors if treatments fail, which can result in violence against medical workers.
Li Ying, deputy director of the Institute of Health and Environment Communication at Communication University of China, said verbal violence against medical workers can worsen doctor-patient relationships.
"Medical institutions should take more measures to support and protect medical staff and should intervene in disputes," she said.
"On the other hand, medical staff should have a better understanding of patients and provide enough information to them, such as the state of their health and possible consequences of treatment."
Courts across China last year heard 155 cases involving violence against doctors that caused death or injuries, the Supreme People's Court announced earlier this week.
Hospitals and clinics provided 7.6 billion treatments last year. The number of medical disputes decreased last year by 8.7 percent compared with 2013, indicating improved relations between doctors and patients, said Ma Yan, an official of the Supreme People's Court.
Li Jiayi contributed to this story.
wangxiaodong@chinadaily.com.cn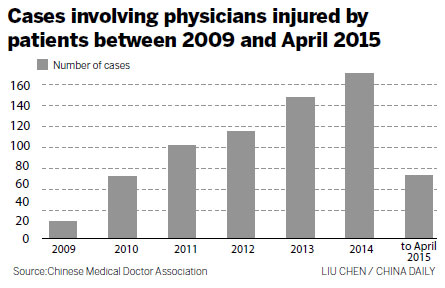 (China Daily 05/29/2015 page5)