Student Kang Xia posted an online advertisement offering his 1,741 secondhand books for sale - and was overwhelmed as nearly 7,000 people across the country sent him more than 770,000 yuan ($124,000) in 24 hours.
The books quickly ran out, and he now faces the daunting task of mailing parcels to 300 successful buyers and refunding money to the thousands of others who placed orders that he cannot meet.
Kang, 26, from Qinhuangdao, Hebei province, wanted to sell the books before leaving for the United States in July to study at Columbia University. He posted the ad on WeChat and included details of his account with the Alipay online payment service.
The deal was that he would sell three books chosen at random for 60 yuan, or seven for 99 yuan. In two hours, more than 200,000 yuan had poured in, and he asked Alipay to stop accepting more payments a day after posting the ad. In the following days, his post was read more than 100,000 times, and his list of followers on WeChat grew from 6,000 to 42,000 people.
"It was outrageous," Kang said. "It was the first time I saw the power of WeChat."
He denied the sale was a marketing gimmick, and said he was not looking forward to having to deal with the deliveries and refunds.
There were 632 million Internet users and 527 million smartphone users in China last year, according to a report by the China Internet Network Information Center.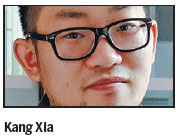 The report said 23.8 percent of Internet users share shopping information, and 35.8 percent buy items recommended by other people online.
"The Internet has so many users that, with proper guidance, it can generate an enormous response," said Ku Zheng, a social network researcher.
Ku is also executive director of an NGO dedicated to reviving traditional culture. Last year, his organization set up an online fundraising campaign to help an 81-year-old folk opera performer to stage a show in Beijing, and the 30,000 yuan target was reached within four days.
"We did not ask people directly to support an unpopular art form. Instead, we advocated helping a great artist and a grandmother to fulfill her dream," Ku said.
"People are touched by human interest stories. Small donations can make a big difference."
Kang wrote in his post, "A book would be dead, a corpse, if put on a shelf. It only comes alive again when it is read by the next person."
A book lover sent a message saying, "I only spent 99 yuan, but I felt like I found one of my kind."
pengyining@chinadaily.com.cn