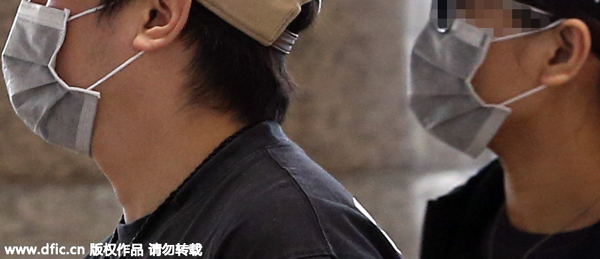 Two health workers wearing masks are seen in this May 28, 2015 photo in South Korea. [Photo/IC]
Beijing Center for Diseases Prevention and Control said in a notice on Thursday that Beijing has made tight plans to prevent widespread of MERS virus.
As an international metropolitan for frequent trade and culture exchanges with overseas cities, the Chinese capital has the potential risk of importing MERS case, said the Beijing disease prevention authorities.
MERS is a respiratory illness caused by a new type of corona virus. The first case was identified in Saudi Arabia in 2012. There is no vaccine or treatment for the disease, with its fatality rate reaching 40.7 percent.


South China's Guangdong province reported its first suspected case of Middle East Respiratory Syndrome (MERS), the National Health and Family Planning Commission announced on Thursday.
A South Korean believed to be infected with the deadly virus came to China for a business trip on Tuesday. The 44-year-old man expressed discomfort as early as May 21 and 38.7 degree Celsius fever on Monday.
He arrived in Hong Kong on Tuesday and went on to Huizhou city in Guangdong Province via Shenzhen.
Health authorities put the man under observation in isolation and notified the World Health Organization on Wednesday. To prevent contagion, the man's wife and the medical workers who contacted him were placed in self-isolation.
The health authorities are investigating into about 180 co-workers who closely or directly contacted the suspect.
The list of 28 passengers on board the same flight bound for China and seated near him was forwarded to the Chinese authorities. Aboard the flight were 80 South Koreans, 78 foreigners and eight flight attendants.

Of the known close contacts with the man in Guangdong, no anomalies have been found so far.

The 44-year-old has family members who were confirmed to have contracted the virus, according to China News Service.
Tips for prevention
Currently, there is no vaccine to prevent MERS-CoV infection, according to the Centers for Disease Control and Prevention of the US. 
CDC routinely advises that people help protect themselves from respiratory illnesses by taking everyday preventive actions:
- Wash your hands often with soap and water for 20 seconds, and help young children do the same. If soap and water are not available, use an alcohol-based hand sanitizer.
- Cover your nose and mouth with a tissue when you cough or sneeze, then throw the tissue in the trash.
- Avoid touching your eyes, nose and mouth with unwashed hands.
- Avoid personal contact, such as kissing, or sharing cups or eating utensils, with sick people.
- Clean and disinfect frequently touched surfaces such as toys and doorknobs.