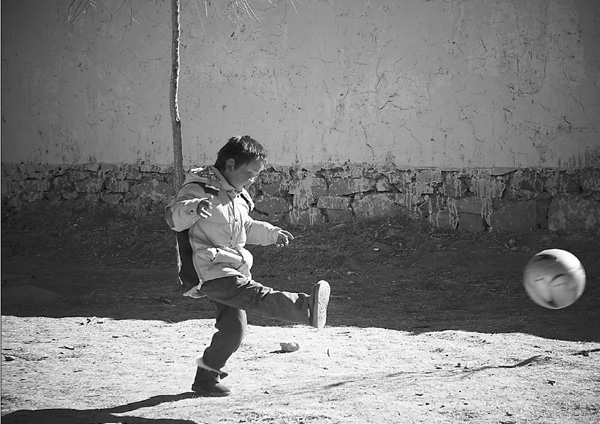 A blind boy plays soccer in the kindergarten which is the first for blind kids in Tibet and has 28 students. PHOTOS BY KALSANG GYALTSO / FOR CHINA DAILY
Kyila sees dream come true to empower children
Kyila may not be able to see the world, but she has a clear vision of how to make it a better one for blind and partially sighted people.
The 29-year-old, who has been blind since birth, founded the Tibet autonomous region's first "blind massage" center as well as its first kindergarten for visually impaired children.
"I do what I like to do, which is essential to me. I'm proud of that," said the businesswoman, who opened the Enlightening Blind Massage Center in 2003.
"By providing job opportunities for massage therapists with sight problems, I wanted to help them live with dignity and become contributing members of society," she said.
Kyila was born in Tibet's Lhaze county and has two brothers who are also blind. When she was 12, she was enrolled in Braille Without Borders, a specialist school in Lhasa opened in 1998.
After three years at the school, Kyila was able to read and write Braille in Chinese, Tibetan and English, and had been taught how to cook and perform massage.
"What benefited me most from my stay there was not the knowledge, but the selfconfidence and self-reliance," she said. "I began to realize it was not only me, many people around us have visual impairments."