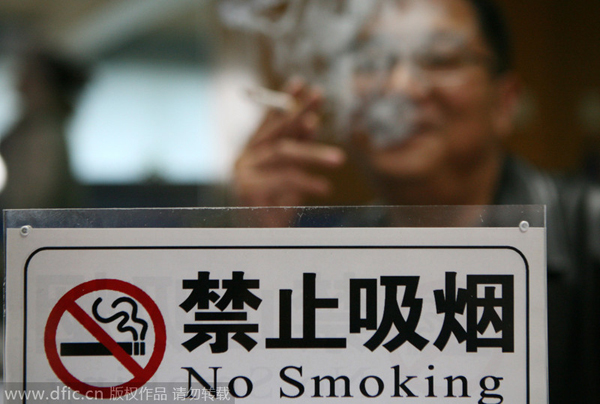 A man smokes a cigarette near a no-smoking sign in Huai'an, Jiangsu province, on Nov 25, 2014.[Photo/IC]
Indoor smoking and tobacco advertisements will be banned in public places in Beijing as part of new tobacco control regulations which come into force on June 1, the Beijing News reported on Wednesday.
The restrictions, which were adopted in November by the Beijing People's Congress, are among the toughest of their kind in China. They forbid smoking in all indoor public areas and workplaces and some outdoor areas, including schools.
To follow the regulations, new measures have been rolled out in schools, airports, metro and bus stations, restaurants and scenic spots to curb smoking.
Tobacco retailing certificates will not be issued to shops within 100 meters of kindergartens, primary and middle schools, and children's activity centers. As for shops who have obtained the certificate, they will not able to continue to sell tobacco when the certificate expires.
As for public transport, Beijing airport announced Tuesday that all smoking rooms will be closed and be replaced with 11 outdoor smoking areas on June 1.
Outdoor smoking areas, covering a space of 1.5 square meters and marked with yellow lines, will also be set up in more than 600 bus stations across the city.
Smoking is banned in all metro facilities, including cabins and stations.
In restaurants and scenic spots, health inspectors are expected to enforce the rules. Areas with key cultural relics will ban smoking completely, while other spots will set up outdoor smoking areas for smokers.
In addition, radio, film, television, mobile communication and the Internet are prohibited from distributing tobacco advertising of any form. No tobacco advertisements are allowed in public places, public transport carriers or outdoor areas.
According to the new regulations, violators will face fines of up to 200 yuan ($32), a twenty-fold increase from the current 10 yuan penalty.
More than 10 million people suffer from passive smoking in Beijing. Citizens can discourage violators from smoking by making no-smoking gestures or calling the hotline at 12320 to report illegal smoking, said a report from People's Daily.
Data from China's Center for Disease Control shows that about 1.5 million people die from smoking-related diseases every year in China.