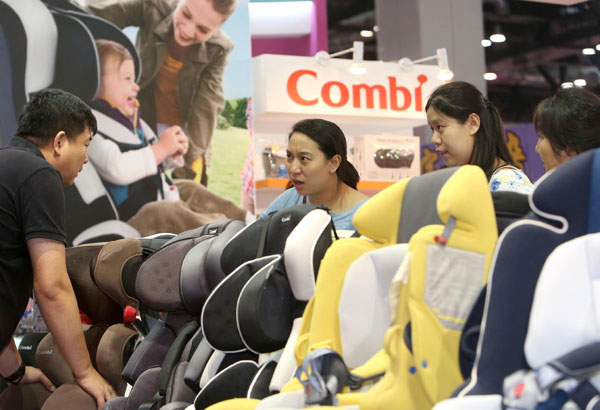 Visitors pick child safety seats at an exhibition in Beijing last year. Provided to China Daily
The use of child safety seats in vehicles is relatively uncommon in China, according to an investigation by the nation's quality watchdog.
Only 12.1 percent of children used the seats during their most recent outing in a family car, the investigation found.
It also found that only 19.7 percent of families polled had used the safety seats, with 37.3 percent of children wearing safety belts instead while riding in vehicles.
Results of the investigation, carried out by the General Administration of Quality Supervision, Inspection and Quarantine, were released after it polled 4,375 parents with children up to 13 years old in five cities across China.
Yan Fengmin, head of the watchdog's Department of Law Enforcement and Supervision, said the investigation showed that public misconceptions about the safety seats still run deep.
A total of 44.6 percent of parents polled were unaware of the safety hazards posed by child safety seats if they are used improperly.
However, the investigation found that many respondents intend to use the seats, with 81.9 percent of parents polled believing it is necessary that they are used when children are in their vehicles.
Zhou Ying, a manager at a public relations company and mother of a 4-year-old girl in Beijing's Chaoyang district, said the family had bought a child safety seat before the baby was born and it was used until the child was 18 months old.
"She wanted to move freely and wanted to be cuddled by us. She did not like the restraints of the safety seat," she said.
The seats became a common choice for gifts by Zhou and her friends for families expecting babies.
"But the problem is that many families, including friends of mine, stop using the seats when their children become older, as the infants complain of discomfort from the restraints," she said.
Another problem is the high prices, especially for imported child safety seats.
The family later decided to stop investing in new seats, she said.
According to the quality watchdog, more than 90 percent of child safety seats produced in China are sold overseas.
Experts have long called for the compulsory use of child safety seats across the country. The use of such seats is compulsory in the European Union and the United States.
Shanghai and Shandong province have introduced regulations making the use of safety seats compulsory for children ages 4 and under.
Shang Wei, deputy director of the Road Safety Research Center under the Ministry of Public Security, said at a forum on vehicle safety in December that the lack of legislation is still one of the biggest problems threatening the safety of children on the roads.
xuwei@chinadaily.com.cn