Caution is advised because young people's idealism may not translate to practical success
A growing number of college students, driven by idealism, will start their own businesses after graduation in July, according to a recently released report.
About 6.3 percent of new graduates will choose to start their own businesses instead of continuing their studies or accepting employment, a rise from 3.2 percent last year, according to the survey by Zhaopin.com, a Chinese human resources website.
The report said that as society "embraces the trend of mass entrepreneurship and innovation in the Internet age", this group of startups will benefit from a friendlier environment. So starting a business has become a hot topic among graduates.
Yuan Bozhi, a computer science student at Tsinghua University who will graduate in July, is one of the group. His team worked on a mobile app that allows users to post their requirements for taking a delivery - such as time and location - similar to booking a taxi by app.
"After so many years of being educated at one of the most prestigious universities in China, I don't want to spend my time working to make profits for a company. I want to do something meaningful," the 27-year-old from Beijing said.
Zhaopin's report found that the major drivers for startups are personal dreams and interests. Total of 27.4 percent of respondents said they want to fulfill their dreams, and 20.8 percent said they would start a business because they were interested in a certain field.
The best moment
A total of 5.4 percent said they would start their own businesses because they would have trouble finding satisfactory jobs.
Zhang Naiqi from Jiangsu province said he doesn't recommend that new graduates set up businesses. The best time may be after one or two years working for a big company, Zhang said.
Zhang started his own business after two years working with Accenture, a consultancy in Shanghai.
"Last year, we hosted 10 startup gatherings at universities in Shanghai," said Zhang. "Our feeling was that students still know little about markets and society. This is natural because university life is isolated from society, and experience has to be obtained through internships or one or two years of working."
Chen Yu, vice-president of the China Association for Employment Promotion, agreed, saying a startup may be meaningful but one should not expect too much from it.
"Some geniuses in the Internet industry created miracles, but that does not tell the whole story," said Chen. "Business has its own rules. Before you start up, you have to know how to produce products, how to sell them, how to manage a company - those lessons you cannot expect a fresh graduate to know."
suzhou@chinadaily.com.cn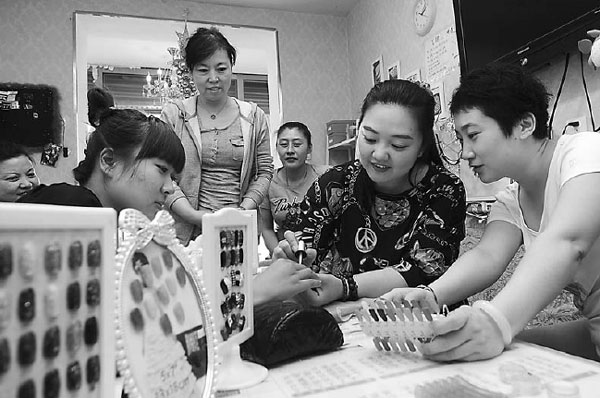 Liu Danni (second from right) works at her nail salon in Dalian, Liaoning province, this month. She started her own business after graduating from Dalian Polytechnic University. Li Tiecheng / for China Daily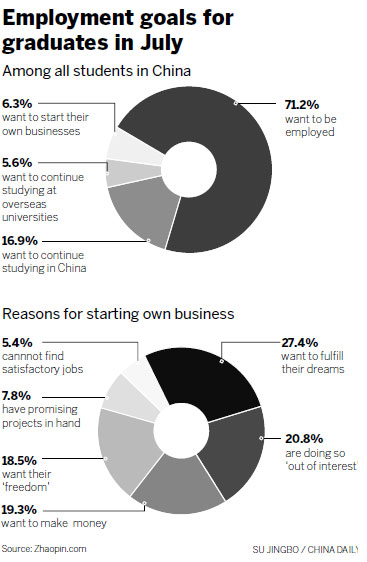 (China Daily 05/25/2015 page8)