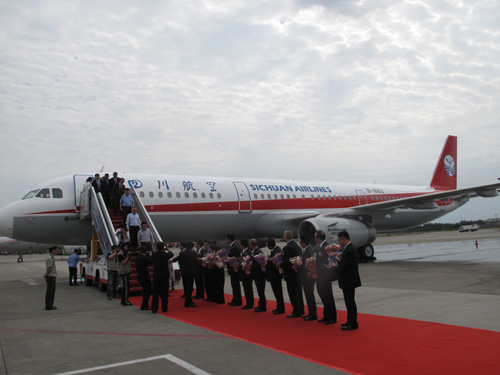 A welcoming ceremony for Sichuan Airlines' 100th aircraft, an A321,is held at the Shuangliu International Airport in Chengdu, Sichuan province, on Friday afternoon. [Huang Zhiling/chinadaily.com.cn]  
A brand-new Airbus A321 plane landed at Shuangliu International Airport in Chengdu, capital of Sichuan province, on Friday afternoon after a 10-hour flight from Hamburg, Germany, where Airbus has a production line.
"We are happy to receive the 100th aircraft from Airbus. The latest addition to our all-Airbus fleet will further increase our capacity to satisfy the growing market demand for air traffic in China," Li Haiying, chairman and president of Sichuan Airlines, said at a welcoming ceremony held in the airport.,
"We are expanding our route networks not only across China but also to Asia, Australia, Europe and North America. With a 100-strong fleet comprising both Airbus A320 family and A330 family aircraft, we are confident to take our passengers to more destinations and offer them a more comfortable flight experience," he added.
According to Cai Chao, an information officer with Sichuan Airlines, his company is the fifth Chinese airline with more than 100 planes. The other four are Air China, China Southern Airlines, China Eastern Airlines and Hainan Airlines, he said.
"We would like to congratulate Sichuan Airlines on the milestone of increasing its fleet to 100 aircraft and express our gratitude to Sichuan Airlines for its confidence in Airbus aircraft," said Eric Chen, president of Airbus China.
"Starting as a regional player in Southwest China, Sichuan Airlines has today developed into a strong player in China and is exploring new opportunities in the international market. As always, we will provide strong support to Sichuan Airlines with our top performing aircraft and top level of services," he said.
The partnership between Sichuan Airlines, which is China's largest all-Airbus operator ,and Airbus dates back to 1995, when the airline introduced an A320, becoming the first airline to operate an Airbus fly-by-wire aircraft on the Chinese mainland. It was also the first airline to operate the Airbus A321 on the mainland.
Based in Chengdu, Sichuan Airlines has a network to some 200 domestic destinations, including Beijing, Harbin, Hangzhou, Xi'an and Sanya, as well as international routes to Asia, Australia and North America.