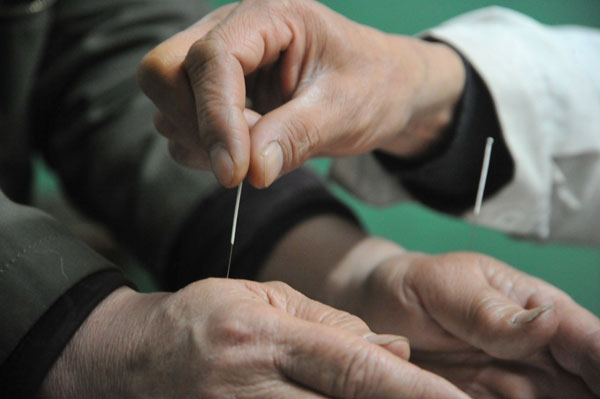 Acupuncture, a significant part of traditional Chinese medicine, has been widely used to treat a range of conditions in the country's TCM hospitals. [Photo provided to China Daily]
China is going to establish a Traditional Chinese Medicine (TCM) health service system by 2020, according to a plan recently issued by the General Office of State Council.
The Plan said the health service sector is expected to become an important force for promoting the change of economic society.
It has put forward four specific goals: significantly improving medical treatment service capabilities; constantly innovating technology used in health services; further improvement in health insurance services; and continual optimization of the development environment for health service industry.
To ensure the development goals can be successfully achieved, the plan stresses policies changes, including lowering market entrance, providing legitimate land resource, reinforcing guidance of investment and financing, taxation and price policy.
On the other hand, series of safeguard measures have been put forward, including strengthening government organization and implementation, promoting role of industry association, optimizing standards and regulations to construct a friendly environment.
Moreover, implementation of key construction projects includes three types: guiding social forces into implementation; implementing special channel within responsibilities of relevant departments and building public welfare infrastructure construction with central of local finance.
TCM health services refer to the activities that maintain and improve people's physical and psychological health by applying TCM theory, method and technology.
Rooted in Chinese culture, TCM has absorbed and incorporated advanced ideas and philosophy of natural and social sciences at different stages in the past thousands of years.