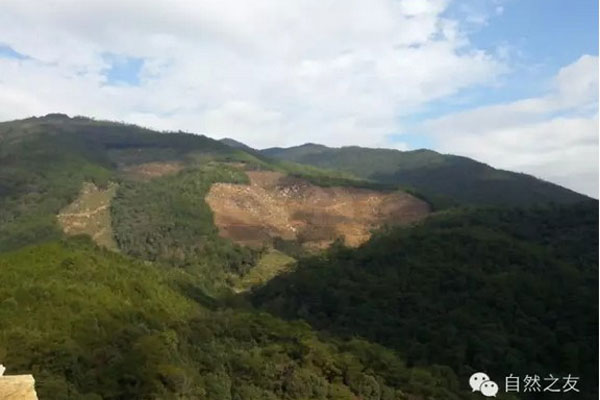 Damaged vegetation on a hill is evident in Nanping, Fujian province. [Photo/Friends of Nature]
BEIJING -- A Chinese court has begun hearing a lawsuit filed by green organizations against a quarry for environmental damage in a landmark case empowered by China's strengthened environmental law.
The case, filed by Friends of Nature and Fujian Green Home, opened in Nanping Municipal Intermediate People's Court in the southeastern province of Fujian on Friday.
The two NGOs accuse four people of running an unlicensed quarry that has severely damaged vegetation on a hill in Nanping City since 2008, demanding they take responsibility for restoration work, said a lawyer for the plaintiffs.
This is the first NGO-filed case over non-pollution-related environmental damage to be heard in a Chinese court since the amended Environmental Protection Law took effect on January 1.
The law allowed city-level NGOs to launch environmental lawsuits, which conservationists said encourages more social forces to join the battle against profit-obsessed companies and local governments who neglect their green liabilities.
China has only about 80,000 officials enforcing its environmental laws, which experts say is far from enough for overseeing the country's 1.5 million companies, counting the registered ones only.
But about 700 organizations can join the fight under a new law, which allows any NGO registered at city-level or higher that has specialized in environmental protection for more than five years to initiate legal cases on pollution and environmental damage, legal experts said.
"Such environmental lawsuits can deter polluting factories by raising their lawbreaking costs and by encouraging public supervision," said Ma Yong, legal expert with the All-China Environment Federation.
But Ma said the many difficulties, including high expenses, that are involved in launching such legal actions mean a remarkable increase in environmental lawsuits is unlikely. He also opposed overpraising such cases.
"Such lawsuits are important supplement to government law enforcement and the last defense line, but not replacement," Ma said. "Most of the environmental problems still need to be solved by the government."