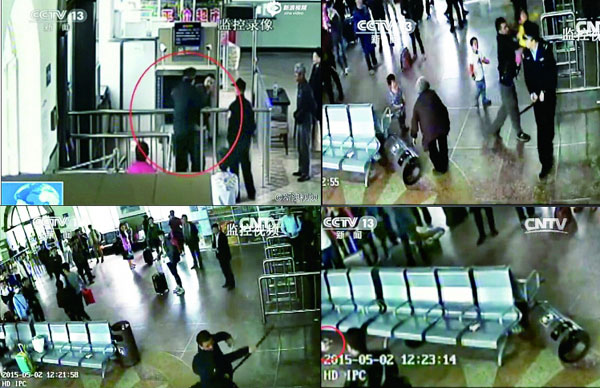 Still images taken from a surveillance video recorded on May 2, show before and after policeman Li Lebin shot Xu Chunhe, a passenger, at a railway station in Qing'an. Provided to China Daily
A police officer has been cleared of wrongdoing after shooting and killing a passenger at a railway station in northeast China's Heilongjiang province, the local police department said on Thursday.
Police Officer Li Lebin shot Xu Chunhe on May 2 at the Qing'an county railway station.
An internal investigation showed that Li did not violate protocol and that the shooting occurred as part of his duty, said the statement from Harbin railway police who conducted the investigation.
Xu, 45, who was traveling with his 81-year-old mother and three children, allegedly initiated the assault on Li and continued the attack despite multiple warnings before the police officer shot him, the statement said.
Xu died at the scene.
Investigators and prosecutors examined security video footage and interviewed about 60 witnesses.
The video footage showed Xu, his mother and three children arriving at the railway station on the morning of May 2. Xu bought tickets to Dalian, in Liaoning province, and the whole family went to a nearby restaurant for lunch.
They returned to the station and entered a waiting room around noon.
A few moments later, Xu blocked the security check passage with a trolley and shut one of the doors to the waiting room, preventing 40 passengers from entering.
Officer Li was called to the scene by a security guard. Despite Li's warnings and attempts at persuasion, Xu refused to move away from the security passage and tried to stop Li. When Li opened a different door to let passengers in, Xu threw a bottle of water at him.
During the struggle, Xu moved to pull out something from his waistband. Li drew his gun but did not raise it. Confirming no threat shortly afterward, he reholstered his weapon.
Observing that the situation was growing more volatile, Li returned to his office to get a baton. Xu followed him.
Li tried to control Xu outside the police office but was met with violent resistance. After trying to grab the baton, Xu pushed his mother into the officer when she tried to intervene and then shoved his daughter toward the officer, causing her to be knocked to the ground.
"He grabbed the baton and hit the policeman on the head. When the policeman pulled out his gun, (Xu) struck the policeman's hand. The policeman shouted 'freeze' many times. He just didn't stop," said a witness surnamed Wang.
Li then fired his weapon.