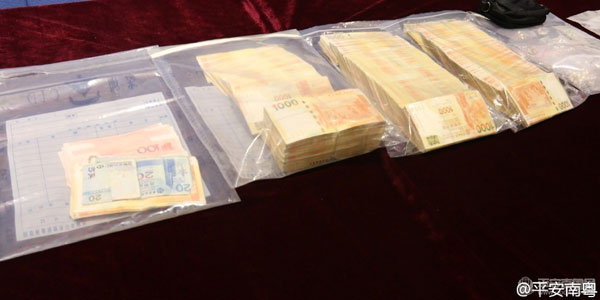 The extorted money retrieved from the kidnappers. [Photo from Weibo]
Eight suspects involved in a high-profile kidnapping in Hong Kong special administrative region in late April have been detained in Guangdong.
At a press conference held in Guangdong provincial capital Guangzhou, police claimed that ransom money valued at 2.83 million Hong Kong dollars ($365,161), plus several stolen watches and jewelry, were seized.
"A total of nine suspects involved in the major kidnapping case have been detained so far," said Guo Shaobo, deputy director-general of Guangdong provincial department of public security.
Another suspect surnamed Zheng was detained by Hong Kong police in Luohu checkpoint on May 3 when he tried to enter into Shenzhen.
"All the detainees, including the suspected gang leader surnamed You, are mainlanders," Guo.
You, born in 1976, and a gang member surnamed Wang were detained in Guangdong's Huidong county on May 9. And police seized large sum of ransom money after detaining the pair. You and Wang slipped into Guangdong on May 6 with more than 2.8 million worth of cash in hand.
Earlier the other six suspects were held in Shenzhen and Dongguan of Guangdong province and Weng'an county in southwest China's Guizhou province.
The suspects kidnapped a woman granddaughter of a local tycoon, when they burgled into a villa in Hong Kong on April 25. And the hostage was released after her family members paid the suspects ransom valued at total of 28 million Hong Kong dollars on April 28.
"Police are still investigating the whereabouts of the remaining ransom worth more than 25 million Hong Kong dollars," Guo said.
Li Ping, director of the criminal investigation detachment with Shenzhen city bureau of public security, said seven suspects were responsible for carrying out the kidnapping in Hong Kong while the rest of the two were allegedly responsible for helping the others slip across the border from Shenzhen to Hong Kong.
According to Guo, a special task force, headed by Guo, was established on April 30 when Guangdong police were informed by their Hong Kong counterparts about the kidnapping case.
Hong Kong police sought Guangdong's help when they believed the suspects had escaped to Guangdong after organizing the kidnapping in Hong Kong, Guo said.
"Special police operations were launched in Shenzhen, Huizhou, Dongguan and Weng'an in Guizhou after several days of investigation," he said.
"Whether Hong Kong residents were involved in the kidnapping is still being investigated," he added.
The successful outcome of the case shows co-operation between Hong Kong and Guangdong police, he said.
Guo said Guangdong will never become the heaven for cross-border suspects.