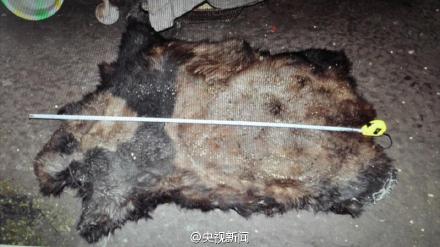 Seized panda skin. [Photo from Sina Weibo]
Police cracked a panda-hunting case in Zhaotong, Yunnan province, according to the Forest Public Security Bureau of Yunnan province, reported the official Weibo account of China Central Television on Wednesday.
Ten suspects were arrested with evidence including panda skin, 9.75 kg of panda meat, two leg bones, two pieces of head skulls and a gall bladder.
Internet users burst into anger on Weibo condemning the crime of killing national protected animals. The topic "pandashunted" has been discussed with more than 100,000 hits in less than three hours.
China has strict laws and regulations to forbid hunting or poaching of wild animals, especially endangered animals like pandas. Pandas, as an endangered species, are treated as national treasures and are beloved by the public.

Related: Hunting for sport ignites public fury

One man discovered vanity may be China's most dangerous game after police discovered a photo of him with an illegally poached bear in the southwestern province of Sichuan.

Wealthy businessman Li Chengzhang was apprehended by police after he took part in illegal hunting at a protected forest, photographing himself with his trophy kill for use on social networking sites.

The hunters peeled off skin of the bear the next day, cutting it into several pieces and carrying it to the Mianyang City.