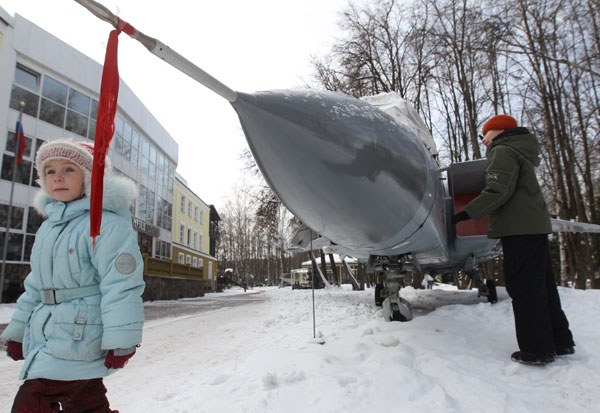 A Yakovlev Yak-141 Soviet supersonic short takeoff and vertical landing fighter aircraft is displayed at the Vadim Zadorozhny Technical Museum in Moscow in 2011. The aircraft was used for testing, but did not enter active service. [Photo Provided To China Daily]
Amphibious tasks
In November 2013, Yin Zhuo, director of the PLA navy's Expert Consultation Committee, told China Central Television that China is developing an amphibious assault ship whose displacement will be 1.5 times larger than the Japanese Izumo-class helicopter destroyer's 27,000 metric tons.
Liang Tianren, a Hong Kong military observer, wrote in Hong Kong's Ming Pao newspaper in January that China is building a 50,000-ton amphibious assault ship that can carry 20 helicopters and 12 STOVL aircraft.
"The government decided to build amphibious assault ships after the outbreak of Libyan civil war in 2011, in which some Chinese-owned assets were seized or damaged. China then had few military hardware to protect its properties," Liang said.
"The situation made the government realize the importance of amphibious assault ships, which can fulfill various naval operations as well as conduct evacuations or humanitarian missions," he said.
The first Chinese amphibious assault ship will be built before the end of this year, he said, reporting at least four such vessels will be made.
Once the first amphibious assault ship is built, the navy will have to choose a suitable aircraft for it, Wang said.
"The comparatively short deck cannot accommodate the fixed-wing J-15, and attack helicopters like the WZ-10 are slow and have a limited choice of weapons. But STOVL aircraft are fast - the maximum speed of the F-35B is nearly 2,000 km/h, and it has strong firepower," he explained.
Vasily Kashin, a senior China analyst at the Center for Analysis of Strategies and Technologies in Moscow, told Sputnik News Agency, "If the PLA navy's amphibious assault ship is equipped with STOVL jets, it can be used as a light aircraft carrier, further adding to its combat capability."
Senior Captain Zhang Junshe, a researcher at the PLA Naval Military Studies Research Institute, told China Daily: "The navy can deploy helicopters and STOVL aircraft on the amphibious assault ship, designating helicopters to conduct anti-submarine tasks and using STOVL planes to perform mid-and long-range air defense as well as air-to-surface strikes."
Multiple roles
The PLA air force will also find potential in STOVL aircraft, Wang said.
"Compared with conventional aircraft, STOVL planes are quicker and more convenient to use in contingencies and conflicts because they have few airport or runway condition requirements. Even a poorly equipped airfield or takeoff/landing point can deploy a lot of them," he said. "They would be a good guard for front-line air bases."
If the air force's bases were under attack, leading to conventional aircraft being grounded, STOVL fighter jets would still be able to take off to fight, gaining time for repairing the damaged bases and adding resilience to the air force, Wang said.
zhaolei@chinadaily.com.cn