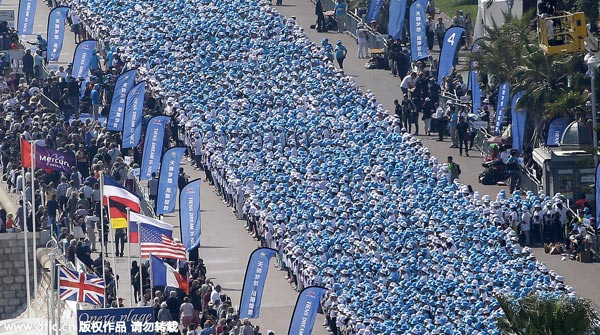 Employees of China's Tiens Group attend a parade organized by CEO Li Jinyuan as part of a four-day celebration weekend for the 20th anniversary of his company, on the Promenade des Anglais, Nice, southeastern France, May 8, 2015. [Photo/IC]
A health products company based in Tianjin drew mixed reactions from Chinese netizens after taking 6,400 employees, or about half of its workforce, on holiday to France.
The tour was organized by Tiens Group Co to celebrate its 20th anniversary. The participants were mainly sales staff members and company partners.
The tour group, China's largest to Europe, arrived in Nice, France, on Saturday at the start of the four-day break.
The economic impact of the visit is estimated at between 13 and 20 million euros ($14.6 million to $22.4 million), according to Le Monde, a French newspaper.
Yu Hui, general manager of the Conference and Exhibition Department at Beijing Utour International Travel Service Co, which is providing tailor-made services for the large group, said about 30,000 overnight stays at 140 hotels in France have been booked for the visitors.
Two charter flights served the group, in addition to scheduled flights to Europe, with upmarket department store Galeries Lafayette in Paris staying open longer for the group, Yu said.
The all-expenses-paid vacation sparked controversy among Chinese netizens.
Some people, obviously envious of the company's employees, said they would like to work for someone like Tiens boss, Li Jinyuan, who was listed on Forbes' 2011 list of the world's billionaires.
"It is the kind of company that many would want to work for," China Daily's reader Fred9 wrote.