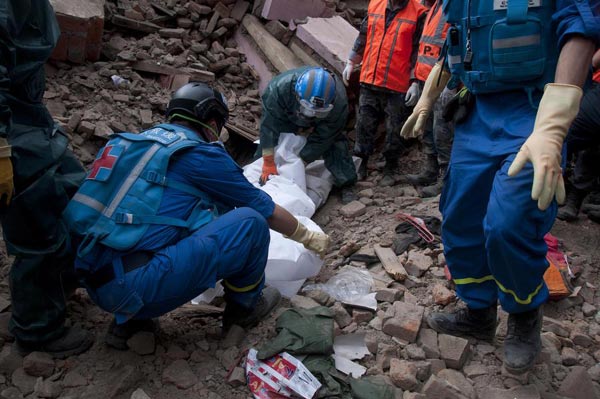 China's Blue Sky Rescue Team conducts rescue work in the township of Sankhu, near the Nepali capital of Kathmandu, April 30, 2015. [Photo/Xinhua]
KATHMANDU - China's Blue Sky Rescue Team on Sunday wound up its mission in earthquake-stricken Nepal, leaving Nepalese capital of Kathmandu and heading back home.
As a non-governmental rescue organization, the Blue Sky Rescue Team arrived at Kathmandu on April 27, two days after the 7.9-magnitude quake struck Nepal and caused massive casualties and devastation. The 83 volunteers of the team, who paid for their own air tickets, brought with them rescue equipment and supplies.
The team's primary tasks were search and rescue, information screening, medical assistance, water supply as well as epidemic prevention, team leader Zhang Yong told Xinhua prior to their departure to China.
During its 12-day stay in Nepal, the team found 24 bodies, provided assistance to 2,320 people, and conducted epidemic prevention disinfection for over 20,000 people, Zhang said, adding that they also provided water purification equipment as well as rescue training to the Nepalese side.
During the period, numerous Chinese organizations, companies in Nepal and overseas Chinese provided logistic support to the team for free. For example, Gezhouba Group's Nepal division provided vehicles; restaurants of overseas Chinese offered food and accommodation; overseas Chinese volunteers served as the team's interpreters and guides.
Shaligram Sharma, deputy superintendent of Nepalese police was among those who attended the farewell party for the team. Sharma told Xinhua that after the strong quake struck, a lot of foreign rescue teams came to Nepal to provide assistance for free, which is beyond his expectation.
Sharma thanked all the Chinese rescue teams that came to Nepal for the selfless contribution they made to the Nepalese people.
Aside from rescue teams sent by the Chinese government, at least five Chinese civil rescue teams came to Nepal to offer a helping hand, Xinhua has learned.