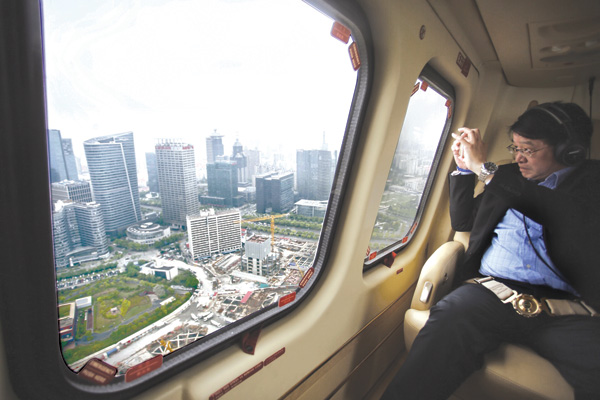 A helicopter trip over Shanghai delights a tourist, but residents complained about the disturbance caused by the flights. [Photo/China Daily]
Shanghai's first low-altitude helicopter sightseeing service proved a hit with tourists but a headache for many residents, and has now been suspended by the authorities.
The city government says it will decide whether or not to allow the trips to resume once officials complete a safety and environmental impact assessment.
Some people living under the helicopters' flight paths complained about the noise from the rotors and engines, and the flights, which began on Friday, were halted by the government on Sunday.
A resident surnamed Zhang told local news website Xinmin.cn that the aircraft rattled his nerves, shook his windows and disrupted the lives of his family.
Liu Yanpeng, brand director of the tours' operator, Shanghai Kingwing General Aviation, said the company has revised its plans to minimize the impact on residents.
"We've switched over to using a lower-powered helicopter and scaled back the tour program by an hour each day," he said. "Our new routes avoid residential areas and schools."
The city's civil aviation authority has approved the company's revised plans, which involve the helicopters flying at higher altitudes of 300 to 400 meters rather than the previous 200 meters, Liu added.
Before the suspension, the 20-minute flights followed three routes. One offered a bird's-eye view of the Lujiazui financial district, another flew over the Shanghai 2010 World Expo site, and the third took in the Disneyland resort under construction in Pudong. They cost from 800 yuan ($130) to 2,400 yuan per person, and 150 people took off on the trips over the weekend.
"We are trying to satisfy the growing demand from tourists who already have some luxury travel experience, while also reducing the noise for a win-win result," said Liu.
Helicopter tours are common in many Western countries, where tourists can enjoy striking views of iconic sites and landmarks. In the US, they are especially popular in New York, Las Vegas, San Francisco and Seattle.
China relaxed its control of low-altitude airspace in 2010 to promote general aviation-the use of aircraft other than those flown by airlines, the military and police.
Since then, selected regions such as Shenyang in Liaoning province and Guangzhou in Guangdong province have introduced trial projects to open up more low-altitude airspace to private and commercial flights.
However, the complicated application procedures, a shortage of pilots and support professionals, and the lack of infrastructure still hinder the sector's growth, according to experts.
The country has 226 general aviation companies and 1,786 general aviation aircraft, according to the Civil Aviation Administration.
The number of aircraft is expected to increase by around 19 percent annually and will exceed 5,000 by 2020, said Wang Zhiqing, the administration's deputy director.
Contact the writers at yuran@chinadaily.com.cn and zhaolei@chinadaily.com.cn.