Hong Kong mourned the loss on Monday of Lu Ping, the central government official who oversaw Hong Kong's return to the motherland.
Lu was director of the State Council's Hong Kong and Macao Affairs Office between November 1990 and July 1997. The office issued an obituary confirming Lu died on Sunday evening in Beijing at the age of 88.
Lu wrote in his biography that he had undergone surgery to treat stomach cancer in May 1995. Hong Kong media, citing sources, reported he died from cancer after spending several months in the hospital.
After his retirement, Lu maintained his connections with Hong Kong and from time to time commented on Hong Kong affairs.
Local political figures who had worked with Lu during the transition period mourned his death and praised his contributions. Even opponents lauded him as an open-minded person who was willing to communicate.
Chief Executive Leung Chun-ying offered his deepest condolences, saying Lu had made huge efforts in the design of the principle of "One Country, Two Systems", taken part in the negotiations over the future of Hong Kong and the drafting of the Basic Law, as well as the preparatory work for the establishment of the Hong Kong Special Administrative Region.
He described Lu as having worked tirelessly for the stable and smooth transition of Hong Kong.
Rita Fan, who had worked with Lu while she was a member of the then Preliminary Working Committee and Preparatory Committee in the 1990s, described Lu as an easygoing person with the disposition of a scholar.
Lu had famously criticized the last governor of Hong Kong, Chris Patten, as "a sinner for 1,000 generations" because he thought Patten's electoral proposal for the Legislative Council was a departure from the smooth transition of power.
Fan said Lu always hoped for a smooth handover of Hong Kong, and he got angry because he feared Patten's proposal would affect the transition.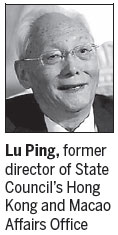 Maria Tam, a former Basic Law drafter, called Lu an upright person. She recalled that during the drafting process, Lu, while insisting on the central government's necessary authority, was happy to listen to many Hong Kong people on "two systems". Otherwise, the Basic Law could not preserve Hong Kong's original capitalist system, she said.
Martin Lee, once a drafter of the Basic Law and the founding chairman of Hong Kong's Democratic Party, praised Lu as a professional and no-nonsense Chinese mainland official always willing to communicate.
Lu was still enthusiastic about Hong Kong affairs after retirement. When he was interviewed by RTHK TV's Headline program in 2013, he said there must be a cap on the number of candidates for the 2017 chief executive election and not everyone who wanted to run in the election should be allowed to. He also commented that the Occupy Central movement would turn foreign investors away from Hong Kong.
In late 2012, he blasted "pro-Hong Kong independence" activities, saying that Hong Kong would become a "dead city" without the support of the central government.
joseph@chinadailyhk.com