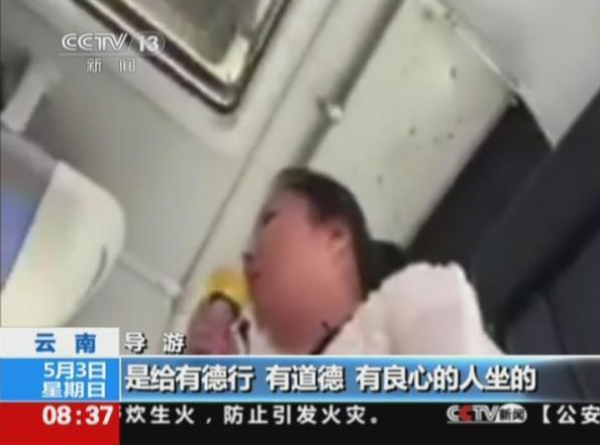 A CCTV screenshot shows Chen Chunyan verbally abusing visitors on the tour bus.
Video shows her venting frustration about lack of spending at scenic spots
Tourism officials in Yunnan province have ordered a travel agency to suspend its operations after a tour guide was videotaped verbally abusing visitors on a bus.
The guide, Chen Chunyan, was angry because she had failed to persuade them to spend freely at scenic spots.
The Yunnan Provincial Commission of Tourism Development said in a statement on Sunday that the authority has revoked Chen's license. The video, shot as the tour bus headed toward the Xishuangbanna Dai autonomous prefecture, has been widely circulated on social media.
The company involved, the Kunming Fenghua Travel Agency, was fined 20,000 yuan ($3,200), and is suspected of committing further violations, the commission said.
An investigation found that the incident took place on April 12, said Liu Kunfeng, head of the commission's law enforcement team. The visitors were on a package tour that included stops in four cities.
"The tour group had traveling back from Lijiang to Kunming and was heading for Xishuangbanna when the incident took place," Liu said.
The video shows the guide venting her frustration on the tourists for their failure to spend enough money at a jewelry shop. She can be heard threatening to cancel the trip to Xishuangbanna and their flight tickets home if they do not spend more at the next stop.
"The bus is prepared for tourists who have moral standards and conscience. If you do not have these, you are not fit to sit here," the guide says in the video, which was posted online on May 1.
The guide says she is frustrated because three or four of the tourists spent only 1,000 yuan between them at some scenic spots, while tourists in other groups spent 10,000 yuan or even 50,000 on souvenirs.
"If each of you cannot spend 3,000 to 4,000 yuan, we will cancel the trip. Your flight tickets home will also not be covered in this trip as well," she says. She names a few items that she says the tourists have to purchase at the next stop.
"You need to at least spend for the sake of your conscience. If you cannot do that, there will be retributions coming to you," she adds.
The China National Tourism Administration released a statement on Saturday urging the Yunnan authorities to launch an investigation as soon as possible.
The law bans agencies from attracting tourists with low prices and then arranging for them to buy goods at scenic spots to earn commission. Agencies are not allowed to designate specific shops where tourists should buy souvenirs, or arrange additional chargeable items during tours.
Contact the writers at xuwei@chinadaily.com.cn and liyingqing@chinadaily.com.cn