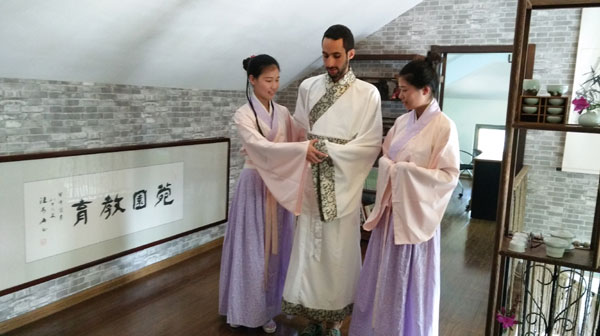 El Amine Cherrat from Ecole Polytechinique, dressed in hanfu, learns the correct way to hold his hands with the help of two students from Nanjing Agricultural University, before practicing how to make tea, on Sunday. Photo provided to chinadaily.com.cn
Nanjing Agricultural University will admit 30 students to its newly founded tea major this September, according to Fang Wanping, associate professor at the university's College of Horticulture.
The tea major will provide courses such as tea cultivation, processing and the tea-making ceremony as well as the trade and management of the industry.
According to Fang, graduates will be capable of working as tea-making performers, professional tasters, dealers and related industries, such as medications and health care products that use extracts from tea which are in need of talents.
"With years of preparation, we think this is the time," said Fang "We are only beginning, so there is a brand new prospect ahead. We hope that tea cultures can be further promoted abroad".
Graduates will be awarded a bachelor's degree.
Students from China and many foreign countries learnt about tea cultures at the university on Sunday. Foreign students from ParisTech, a collegiate university in France, tried leaf-picking in a tea garden, visited a tea factory affiliated to Dr. Sun Yat-sen's Mausoleum and enjoyed a tea-making show performed by Chinese students.
Some students from ParisTech also put on traditional Chinese clothing, and learnt the ancient way of how to make tea.
The event was co-organized by the College of International Education, College of Horticulture and Silkroads Association, an international students association aiming at creating and developing a strong Franco-Chinese network.
Nong Yan contributed to this story.