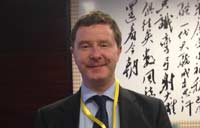 Kieran McLaughlin, headmaster of Durham School CHINA DAILY
With an increasing number of students from China going to study overseas at a younger age, Kieran McLaughlin, headmaster of a boarding school in the United Kingdom, has two suggestions to offer: Learn English, and apply to schools that have a history of accepting Chinese students.
McLaughlin had been teaching in and heading several schools before being appointed as the headmaster of Durham School last year, a private school in Durham, northeast England, that dates back 600 years.
"If you know a school that has a history of taking Chinese pupils, look at it because it will be prepared and have experience, while other schools don't have a track record," he said.
McLaughlin said his school now has 18 students from China, which is about 3 percent of the student body.
"It's relatively lower than many boarding schools in Britain, which have 30 or 40 percent of Chinese students. We are happy to have Chinese pupils at Durham School, but won't have lots more.
"Part of the reason pupils come to Durham School is not only to be with the British pupils but also to mix with the international pupils. If we had a lot of pupils from China, then they may tend to stay together and not integrate with the rest of the school, which is not what we want at Durham," he said, adding that his students come from 25 countries around the world.
McLaughlin emphasized the need to be well-prepared in the English language.
"Pupils should make sure that their English is good enough, because it will be difficult if they find they can't communicate with people while away from home," McLaughlin said, adding that the basic language requirement of their school, for example, is 5 or 5.5 points in IELTS.
McLaughlin has visited schools in Beijing, which impressed him with "fantastic and amazing facilities".
Most recently, McLaughlin visited China in mid-April, to "make some links with schools in China".
Durham School has had a student exchange program with a middle school in Chengdu, Sichuan province, since before McLaughlin became its head.
He said: "I think exposing our children to the opportunity of coming to see China is important for them. We are also happy to have Chinese pupils coming to see us. The cultural benefits are great.
"We don't have any education projects (with schools in China), but we are always looking for opportunities."