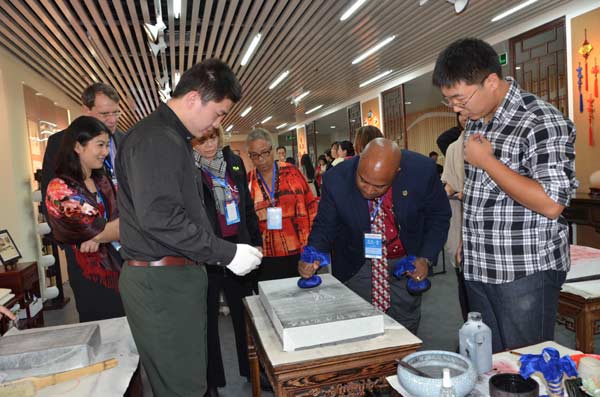 US visitors try to make tablet rubbings under the guidance of volunteers from Shandong University. The university is working with some top foreign universities, aiming to become an international-class institution. CHINA DAILY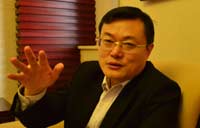 Zhang Rong, president of Shandong University CHINA DAILY
Shandong University is working with some of the world's leading universities and research centers to set up new courses as it aims to become a top international-class institution.
"Our cooperation with overseas research organizations has gone beyond just using their teaching materials or inviting their professionals to give classes," said Zhang Rong, SDU's president and also a physicist.
"We are jointly setting up new courses and developing these courses together."
An institute developed jointly by the university and the Helmholtz Association of German Research Centres is under construction at Qingdao.
"We plan to invite all of the association's 18 scientific-technical and biological-medical research centers," Zhang said.
"We want to update our management model by cooperating with the world's top universities and organizations like the Helmholtz Association. We are going global."
A Sino-US technological innovation park sponsored by SDU has attracted dozens of universities, including the University of Chicago, Rice University and the Johns Hopkins University.
"In addition to conducting research and development, we will turn the fruit of that work into products," Zhang said. "The park provides a platform for students in the international arena."
SDU heads a reproductive medicine lab at the Chinese University of Hong Kong, and has jointly built eight Confucius Institutes with universities in seven countries.
"Our Confucius Institutes are not simply classrooms to teach the Chinese language, but a broad platform and a bridge for people of all countries to conduct cultural exchanges and boost friendship between the Chinese people and other peoples of the world," said Zhang.
A Confucius Institute built by SDU and the National University of Mongolia has been integrated into the NUM's educational system and is responsible for more than 30 China-related courses.
Zhang said dozens of world-class universities, including Harvard, Oxford, the University of Tokyo, St Petersburg State University and the University of Vienna have expressed an interest in working with SDU on promoting Chinese culture.
SDU's international outlook dates back to its beginnings in the 19th century when Calvin W. Mateer, a Presbyterian missionary from the United States, founded the earliest institution of what became the university.
"The story of SDU teaches us the value of history and cultural exchanges between our university and those overseas," said Zhang.
Every year, more than 2,000 overseas students take courses at SDU in subjects that include traditional Chinese culture and archaeology.
In a further expression of SDU's global approach, it will host the 22nd International Conference of Historical Science from Aug 23 to 29. This will be the first time the event, held every five years since 1900 and dubbed the 'Olympics of historians', is held in an Asian country.
The conference's organizing committee said a total of 1,638 experts and scholars had registered for the conference by April 17, including 724 from outside China. They include representatives of 66 countries and regions including the US, Australia, France, Germany and South Korea.
"The event is a precious opportunity to show the world the vitality of the Chinese civilization and promote cultural communication," Zhang said.
Contact the writers at zhaoruixue@chinadaily.com.cn