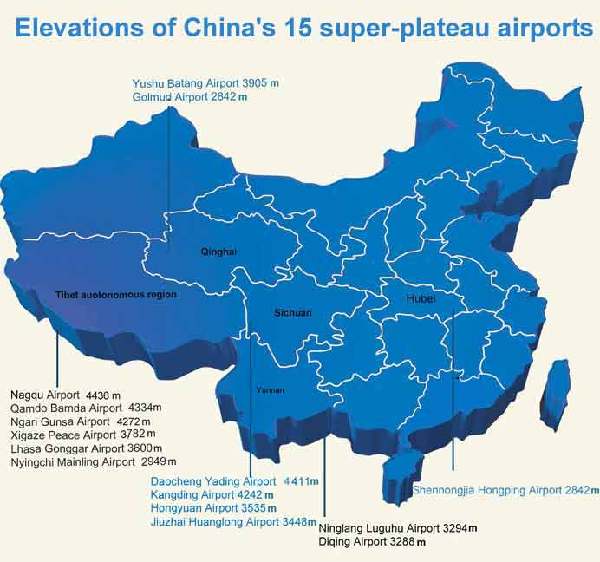 Source: chinadaily.com.cn
BEIJING -- In a bid to tighten the safety of its airports, China will stop building airports higher than 4,411 meters above sea level in the next two years, as it is yet to work out a set of technology standards to build such airports.
Super-high plateau airports, namely those no less than 2,438 meters above sea level, face stricter safety challenges than their low altitude counterparts, said Li Jian, deputy head of the Civil Aviation Administration of China (CAAC) on Thursday.
There are no international technology standards for super-high plateau airports and it will take China two or three years to work out a set of standards. Before this, no plans will be approved, Li said.
China now has 15 of the 42 super-high plateau airports in the world, or about 36 percent of the world's total, according to the country's Civil Aviation Administration. In 2014, those airports handled 5.8 million passengers and 59,000 flights, roughly a fifth more than in 2013.
China's four highest airports also top the world, with three in Southwest China's Tibet autonomous region and one in Sichuan province.
Daocheng Yading Airport, in Sichuan at 4,411 meters above the sea level, is now the highest airport in the world.
It will soon be surpassed by another airport, Nagqu Dagring Airport in southwest China's Tibet autonomous region. It is under construction and will be the highest at 4,436 meters when it goes into operation later this year. Although it is higher than 4,411 meters above sea level, construction began on it before the new regulation.
China has recently made various moves to tighten air safety. For example, the China aviation bureau issued a notice to reaffirm the regulation that there should be at least two people in the cockpit during flights, either two pilots, or one pilot and one attendant or security personnel, in response to the Germanwings crash in March in which a co-pilot crashed a plane while alone in the cockpit.