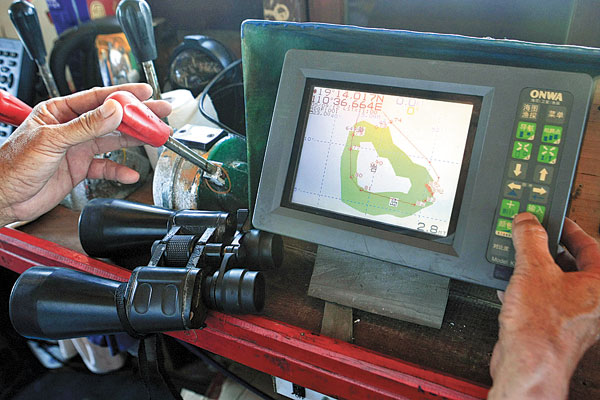 Chen Yiping, captain of fishing boat Qiongqionghai 03889, uses Beidou navigation to guide the vessel to Huangyan Island for fishing. [HUANG YIMING/CHINA DAILY]
China announced a major success in its new-generation satellite of the Beidou Navigation Satellite System (BDS) – China's independently developed global navigation satellite system – on Thursday.
The satellite, the 17th for the Beidou system, was sent into orbit on March 31. It drifted westwards until reaching the designated location – 94.45-degree east longitude – by April 15, and started load testing and signal testing since then.
The first group of data was sent back to ground stations at 2:18 pm on Tuesday, which marks the successful operation of the new generation satellite that takes its first step to expand from a regional to global service.
"We only succeeded in sending the satellite up into the space on March 31, while by that time we still had no idea whether the new satellite, which was so different from the satellites that we had launched before, would work," said Xiangli Bin, chief commander of the Beidou system.
The new generations made a number of improvements to the 16 satellites that are in service, such as weight reduction, electronic system reframe and new functions like inter-satellite links.
This is the first satellite that enables the Beidou system to expand its coverage out of the Asia-Pacific.
By 2020, China will launch around 30 satellites of this kind to complete a global navigation network.

China launched the first BDS satellite in 2000. In December 2012, it began providing positioning, navigation, timing and short message services to civilian users in China and parts of the Asia-Pacific.

The system has been gradually introduced into transportation, weather forecasts, marine fishing, forestry and telecommunications.
The Beidou satellite navigation system is expected to be fully operational worldwide by 2020, according to Li Jian, deputy director of the Civil Aviation Administration of China at an international forum on aviation security in Beijing.

Currently there are four satellite navigation systems in the world, the US Global Positioning System and Russian GLONASS, as well as the European Galileo and Beidou, which are still being developed.