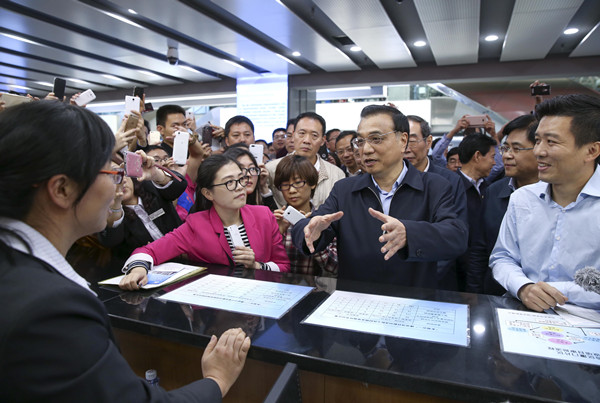 Premier Li Keqiang visits a service center in Xiamen, part of the Fujian Pilot Free Trade Zone, on Wednesday. Li's visit came a day after the official launch of the three latest FTZs, of which Fujian is one. The first FTZ was launched in Shanghai in 2013 under a landmark reform initiative. The FTZ program was subsequently expanded this year to also include Tianjin and Guangdong. LIU ZHEN / CHINA NEWS SERVICE
Premier visits Fujian a day after the launch of three new zones
Pilot Free Trade Zones, now operating in four areas, must have the courage to roll out bolder reforms, Premier Li Keqiang said on Wednesday as he visited Xiamen, part of the Fujian Pilot FTZ.
Li's visit, taking place a day after China opened three new FTZs modeled on Shanghai — a laboratory for ambitious free-market reforms — is expected to create greater openness to counter lackluster trade and boost slowing growth in the world's second-largest economy.
"FTZs should not become places for favorable policies. Instead, they should be a powerhouse of reforms," Li said as he asked about the progress of reforms at a Fujian FTZ service center where businesses register and apply for investment projects.
Streamlined government procedures for business investment are needed to achieve greater opening-up, he said. The sharing of data among government agencies, including the industrial watchdog, quality inspector and tax-collecting authorities, should be accelerated.
"Such data-sharing requires the breaking down of barriers amon  g different government agencies, which is the most difficult part of the reforms," Li said. "But we must accomplish the task within the year."
China launched the China (Shanghai) Pilot FTZ, the first pilot for what were described in 2013 as the country's boldest reform initiatives. The program was expanded on Tuesday as FTZs were opened in Guangdong and Tianjin as well as Fujian.
A new "negative list" for foreign investment in the FTZs has been released. The list sets out the sectors where foreign investors are subject to special restrictions or prohibitions. The number of investment areas listed has been cut from 139 to 122 compared with the 2014 negative list for the Shanghai FTZ.
The Fujian FTZ is expected to attract more investment from Taiwan into industries such as communications, transportation and tourism, due to its proximity to Taiwan and the existing close economic ties.
The zone's development plan says equity ratio restrictions will be loosened for Taiwan-funded companies in certain sectors, and they will be allowed to enter more business fields.
Chen Mingsen, a professor at the Fujian Industry and Business Promotion Institute, said the streamlined customs clearing procedures and other business promotion policies in Fujian will generate cross-Straits trade and form a larger free trade area made up of areas on both sides.
The Guangdong FTZ aims to facilitate trade with Hong Kong and Macao, and Tianjin is set to forge closer ties with Japan and South Korea, he added.
Wednesday's visit was the premier's second fact-finding trip in two weeks, following his tour of Jilin province. Both were intended to identify new economic drivers after the economy recorded its slowest level of growth in the first quarter since the first three months of 2009.
The world's largest merchandise trader has missed its preset annual trade target for three consecutive years.
Lin Ting in Xiamen contributed to this story.