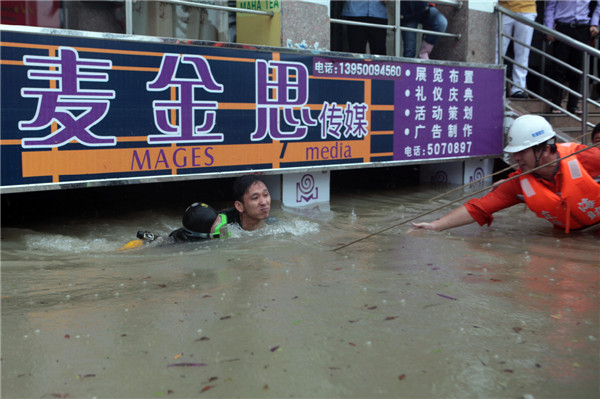 Rescuers try to help a man trapped by flooding in Xiamen city, Fujian province on May 16, 2013. The man was trapped in the water for eight hours before being rescued. [Photo by Mo Feng/Asianewsphoto]
China's central authorities have released a pilot list for 16 so-called 'sponge cities.'
The 'sponge cities' are new projects being launched to use the full potential of rain water.
The first batch of the 16 'sponge cities,' including Wuhan, Chongqing, Xiamen, Zhenjiang and others, will set up systems to allow rainwater to be stored and purified using a permeation system.
The systems themselves are going to be established over the next 3-years.
Exact designs of the proposed systems will vary from city-to-city.
Given the growing lack of potable water in many Chinese cities, it is widely agreed something needs to be done.
Rainfall in most cities usually makes it way to the nearest rivers and lakes through the local drainage system.
However, many of the drainage systems across the country are still highly under-developed.
This often leads to significant flooding during heavy rainfalls.
But under the new 'sponge city' program, nearly 70-percent of excess rain water will be recycled and reused on greenery, street cleaning and fire-fighting.
Hubei's capital Wuhan lies along the Yangtze River, and has long-dealt with flooding.
However, under the 'sponge city' program, authorities in Wuhan have plans to use the collected rainwater to top-up water levels in the lakes in the city.
Zhang Fei is the deputy director of the Wuhan Bureau of Water Resources.
"Here in Wuhan we often view water as a potential disaster, and we try to get rid of it as quickly as we can. But now we're going to try to 'digest' every drop of rainfall and reduce the runoff in the city."
But in other parts of China, the opposite situation tends to be the case.
The Xixian New Area is located between the cities of Xi'an and Xianyang, two of the most prosperous cities in the province of Shaanxi, and part of the heartland of ancient China itself.
However, the area today suffers the most severe drought among the 16 locations tapped to be so-called 'sponge cities.'
Engineer Deng Chaoxian says the 'sponge city' plans for the Xixian include collecting what sparse rainfall falls in the area on the roofs of buildings.
"The rain water is collected from the roofs and drained into a filtration tank. The excess rain water is then transferred into wells for later use."
On top of this, a bio-retention system is also being built to collect and purify rain water from green belts along the sidewalks.
Liu Yubin is the deputy head of the 'sponge city' management committee with the city of Fengxi, which is one of 4 municipalities lying within the Xixian New Area.
"A central flood drainage and storage system is under construction right now. It will collect the rainfall in the central part of our city. Once its finished, its expected to hold some 4-million cubic meters of rainfall every year."
Each of the 16 so-called 'sponge cities' is going to be allocated between 400 and 600-million yuan for their various projects every year.