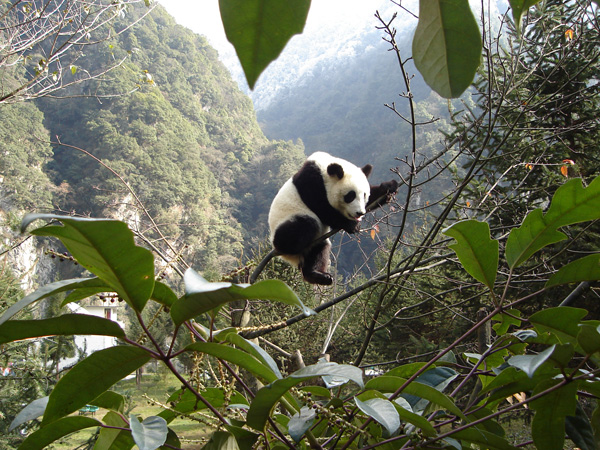 A panda plays on a tree trunk at a panda reserve in Baoxing county. Provided To China Daily

Investment in county seat has earned an AAAA rating from the National Tourism Administration
Baoxing county in Sichuan province is inextricably linked by panda enthusiasts to Jean Pierre Armand David, a French priest.
A naturalist at the National Museum of Natural History in Paris, David was the first Westerner to discover and document the giant panda in Baoxing in 1869. He sent a panda specimen from the county to the museum's Henri Milne Edwards, who in 1870 published a paper declaring the panda a new species.
The fourth National Panda Census in 2013 recorded 1,864 wild pandas in China, with 181 of them living in Baoxing - 38 more than in the third National Panda Census in 2000.
Located on the western edge of the Sichuan Plain, Baoxing county is an important ecological area on the upper reaches of the Yangtze River. It covers 3,114 square kilometers, 99.7 percent of which is mountainous and 75 percent of which belongs to the core area for the protection of pandas.
It is not easy for visitors to spot pandas in the mountains or go to the Dengchigou Church, where David found the panda specimen. It takes a trek of more than an hour in mountainous terrain to reach the iconic church. But people visiting the Baoxing county seat of Muping feel they are really in a panda habitat because the town boasts so many panda statues.
In recent years, more than 1.6 billion yuan ($262 million) has been invested to rebuild Muping in line with a traditional Chinese architectural style.
The center of Panda Square, which covers 3,000 square meters, features a bronze statue of a panda named Pan Pan. With one limb raised in a gesture of welcome, Pan Pan became the mascot for the Beijing Asian Games in 1990.
Panda Square also contains bronze footprints of 17 pandas, representing the 17 that have been sent to foreign countries as national gifts. Visitors to the square can step on the footprints for fun.
Baoxing is also a major producer of white marble, and panda statues made from the marble can be found in many parts of Muping.
In the reconstruction that followed the Lushan earthquake in April 2013, Baoxing has cashed in on its reputation as a panda habitat to woo visitors.
"It has built high-grade toilets, parking lots and signposts and managed to earn Muping an AAAA rating from the National Tourism Administration," said Wu Yusang, deputy chief of the Baoxing Tourism Bureau.
During the three-day Tomb-Sweeping holiday in early April, Baoxing received 34,200 visitors, up by 12 percent on the same period last year, and tourism earnings surpassed 20 million yuan, up by 16 percent. Nearly 20,000 of the visitors headed for Muping.
Contact the writers at huangzhiling@chinadaily.com.cn