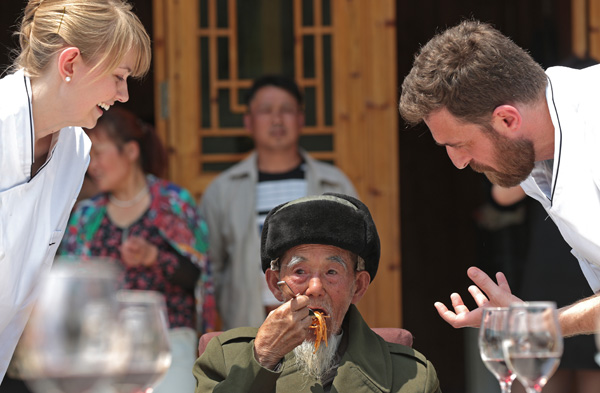 Yang Chuxue, a villager in Guizhou province, is served by foreign chefs on his 92nd birthday at home on Wednesday after his son-in-law went online to order the delivery of Italian food for him. [Photo provided to China Daily]
Zeng Jinchai used the online shopping service station in his village to order an Italian food delivery with a difference to celebrate his father-in-law's 92nd birthday.
Instead of simply having a meal delivered to his home, he found a company that was able to send three uniformed foreign chefs to cook spaghetti and other dishes for an outdoor buffet.
"My first thought was to buy Italian food ingredients online to prepare a meal for the birthday party, but then I realized no one in the village knows how to cook Italian food," he said.
"I didn't expect that an online company could send three chefs to cook on-site for us-and it only cost 3,500 yuan, everything included."
Zeng is one of many residents of Yunshe, a village in Guizhou province that is home to members of the Tu ethnic group, who have benefited from the rural online shopping station. They can visit the center and use its computers to order whatever they need with the help of staff members.
The village is more than 10 kilometers away from Jiangkou county in the city of Tongren, and is relatively cut off from the outside world. Many residents, particularly older ones, did not know how to shop online before the center opened.
Now they can order anything from small items to heavy household goods. Clerks pay for the items when the orders are placed and collect the money from the villagers after the goods arrive.
"At first not many people trusted the new service," said Zheng Qiaoyun, a clerk at the center. "Then several people tried it and discovered that things bought online are much cheaper, and shopping this way is much more convenient than going to a traditional store."
Last year, Tongren's government established a strategic partnership with online Internet giant Alibaba, and a program to offer an e-commerce service in rural areas was launched at the end of the year.
More than 40 stations have been established and nearly a million orders have been placed since the first center opened in January, according to Luo Yingping, the administrator in charge of the Taobao Rural Operations Center.
An additional 2,000 are due to open over the next three years, and more than 70 percent of the villages in Tongren are expected to benefit from the service.
"A rural online shopping station is only the first step," Luo said. "As villagers get used to buying things online, we intend to sell and promote farm produce to the outside world through the Internet."
Zeng Jun in Guiyang and Wang Yanfei in Beijing contributed to this story.