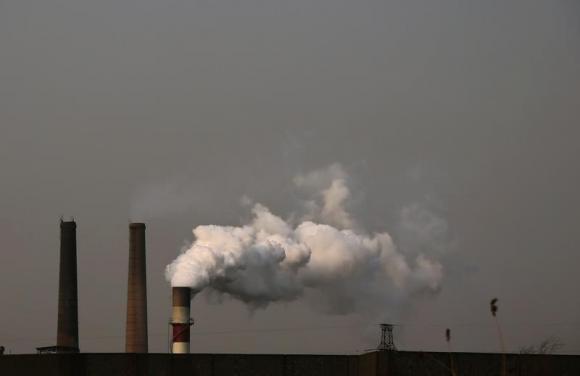 Smoke rises from a chimneys of a steel mill on a hazy day in Fengnan district of Tangshan, Hebei province February 18, 2014.[Photo/Agencies]
Environmental protection 'letters' detail targets, measures
Shijiazhuang - Fifty-six major enterprises in Hebei, considered one of the most polluted provinces in China, signed environmental protection commitment letters in a meeting hosted by the provincial environmental protection department on Wednesday in Shijiazhuang.
The letters define the enterprises' responsibilities as the main players in environmental protection, and specifically stipulate targets and measures for cutting emissions, monitoring and warning systems, action plans, and their accountability.
This is the latest move by the local environmental watchdog to strengthen the implementation of the newly revised Environmental Protection Law.
The signing of the letters was held in the North China Pharmaceutical Group Corporation, which has been lauded as a model enterprise initiating green measures.
The company's environmental protection mechanism, which used to be limited to a certain section, now extends to all of its five layers of management with a clear-cut labor distribution, all the way to small working teams in its workshop.
The group is building an environmental information database and a self-governing environmental protection administration platform on its computers.
Information on pollutant discharging licenses, environmental influence assessment reports and real-time pollutant discharging conditions are all recorded and stored in the database to serve as an importance reference for decision-making through the computerized administration platform, which can provide operators with key monitoring targets through a pre-warning system.
The environmental protection department prepared the commitment papers after referring to the practices of the pharmaceutical group, and intends to apply the model to the other signatories.
"The enterprises should not only establish the system, but more importantly make sure it works well by adapting it to their own conditions when necessary," said Yin Guangping, vice-director of the Hebei environmental protection department.
"The environmental protection departments at all levels will periodically assess their effectiveness. Therefore, we can take differentiated measures based on the results," Yin said.
If the results are good, environmental protection departments will extend green security inspections intervals from once a month to once a quarter, or even once a year, he said. Authorities can also increase the frequency of regular supervisions and penalties.
"Our company will invest 56 million yuan ($9.3 million) this year to upgrade the treatment facilities for waste water, waste gas and volatile organic chemicals," said Liu Wenfu, the general manager of the pharmaceutical corporation.
"The self-discipline system, if well operated, can transform passive law enforcement to an initiative-led regulatory model, pushing the enterprises to regard environmental protection as an inseparable part of their business," said Li Ruoling, a researcher at the Hebei environmental monitoring bureau.
"The businesses will increasingly realize that protecting the environment is in line with their commercial interests."