Zhan Silu feels uneasy when others let him enter the hotel elevator first simply because of his status as a clergyman.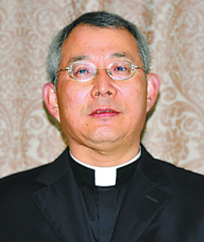 Zhan Silu
The bishop of the Catholic diocese of Eastern Fujian province said being a priest does not mean he can enjoy privileges in daily life.
Zhan, a national political adviser, is sorry to see some people breach the law under the guise of religion, such as the recent construction of a church that was later torn down.
"The local religious affairs authorities' supportive attitude made some people believe they could bend the law," he said.
Zhan's concern propelled him to submit a proposal during the annual session of the Chinese People's Political Consultative Conference in March stipulating that religious bodies should abide by all laws applied to social work.
"The current regulation on religious affairs only focuses on the protection of the lawful rights and interests enjoyed by religious bodies. It should be revised to add contents about religious activities being in line with the law," Zhan said.
"As China is governed by the law, religious affairs, an important part of State affairs, should not be above the law," Zhan said.
One of the areas where people take advantage is constructing religious buildings that violate building restrictions, Zhan wrote in the proposal urging the government to curb such illegal construction.
The 54-year-old cited the demolition of churches in Wenzhou, Zhejiang province, in 2014 as an example, saying religious personnel "crossed the line" when building the churches.
According to Zhan, the local government approved the building of the churches.
"But the churches occupied a larger area and were built higher than the approved figure, which gave the local authorities a proper reason to rectify the illegal construction," Zhan said.
Zhan suggested the local authorities in different places should learn the regulations on religious affairs well and halt the illegal construction related to religious use before the buildings are completed.
"If a case is handled after the construction is completed, the demolition brings about an economic loss and may cause misunderstanding among the faithful," Zhan said.
Zhan, who also serves as vice-chairman of the Chinese Patriotic Catholic Association, said he does not mind that the number of Catholic believers in China is small (more than six million) compared to the population of the country.
"The development of a religion should not be judged by the number of faithful," Zhan said.
"Of course, I hope more people would join me to be a Catholic, but I won't talk them into doing so," Zhan said.
"It is more important to preach the gospel, teach people to do good things and let the gospels shine upon everyone."