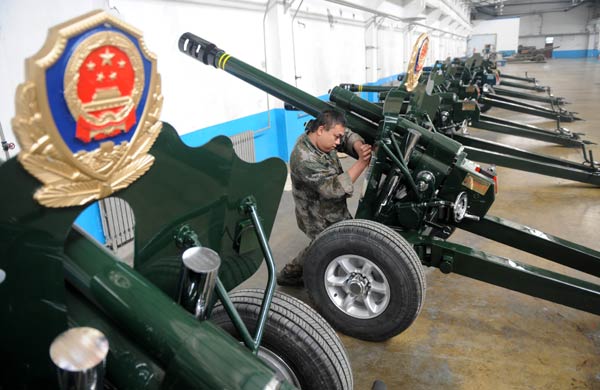 A worker fine-tunes a Type-08 salute gun at the Shanxi North Machine Building Co in Taiyuan, Shanxi province, on April 7. Deng Yinming / for China Daily
The first 12 cannons that will be used for a salute at the September parade marking the 70th anniversary of victory in China's War of Resistance Against Japanese Aggression (1937-45) have arrived in Beijing and were delivered to the Armed Police Force's gun salute squadron, according to their manufacturer.
"The first group of guns departed from our factory on Sunday afternoon and have been handed over to the gun salute squadron. Now we are assembling the rest of the 60 guns and will deliver them to the squadron by the end of this month," Liu Guihong, publicity head at the Shanxi North Machine Building Co in Taiyuan, Shanxi province, told China Daily on Monday.
"The gun is an upgraded version of our Type-08 gun that was fired at welcome ceremonies during the 2008 Beijing Olympic Games and the Conference on Interaction and Confidence-Building Measures in Asia last year in Shanghai," he added, noting more than 200 workers at his company are taking part in the production of the 72 guns due to be used at the September parade.
"Our workers have put in a lot of overtime since January when we received the orders from the Armed Police Force's Beijing regional command and started production. However, they don't have any complaints because they are very proud of being able to help realize the grand parade," Liu said. "We can guarantee that the guns are 100 percent reliable."
The gun is a concentration of many advanced technologies and is subject to a host of strict standards, he said.
"For instance, its firing must sound sonorous, but should not produce a noise higher than 105 decibels within a radius of 100 meters, so its design required rich experience in gun structure, caliber and gunpowder," he explained.
The company was established in 1898 and had been one of the three major land weapon producers in China before the founding of the People's Republic of China in 1949.
All of the guns that have been used at welcome ceremonies for foreign leaders to China since 1949 were made by the company, which is now a subsidiary of China North Industries Group Corp, the country's biggest developer and maker of land armaments, Liu said.
Feng Yuxia, a publicity officer at the company, said each of the new-generation cannons has 13 large parts and is equipped with a computer-controlled ignition system.
She added that the gun features high safety and automation, and has little impact on the environment.
zhaolei@chinadaily.com.cn