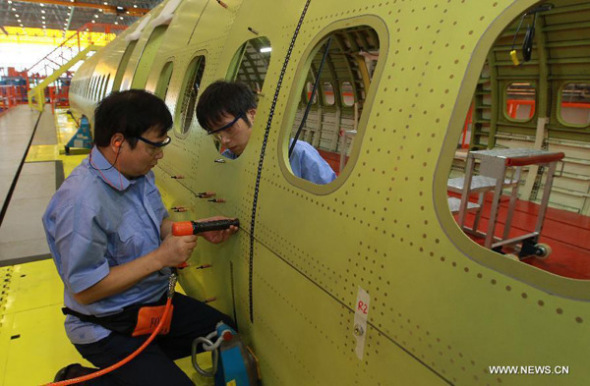 File photo shows technicians installing rivets on fuselage of C919 airliner in the assembly base of the Commercial Aircraft Corp. of China (COMAC) in Shanghai, Sept 19, 2014. [Photo/Xinhua]
The first prototype of China's homegrown passenger jet, the C919, will be equipped with "the most powerful brain" the world aviation industry has ever seen, the Xinhua News Agency reported on Monday.
Aviage Systems is the supplier of the avionics systems for the C919 and a joint venture between the General Electric and Aviation Industry Corp of China. It announced that it has delivered the avionics system integration testing platform and the first set of products for ground testing to the Commercial Aircraft Corp of China, the C919's manufacturer, marking the beginning of software and hardware integration testing for the narrow-bodied airliner.
Alan Jones, the president and CEO of Aviage Systems, said the system for the C919 prototype will be "the most powerful brain" to date. Aviage Systems has provided the C919 with an expandable and easy to configure framework platform, which makes future plane design optimization and performance improvement possible, he added.
The technological platform is similar to that of the Boeing 787 and 777-X, and represents the future of avionics systems, Jones said.
The avionics system is dubbed an aircraft's "brain," as it takes on important tasks such as core data processing, signal transmission and signal function logic conversion. Through the avionics system a pilot processes complicated data, and connects and interacts with flight control systems and other systems to have full control of the plane and fulfill flight missions.
The C919 will make its maiden test flight before the end of the year, and assembly of the first prototype is progressing well, Chinese media quoted the country's civil aviation authority as saying last month.