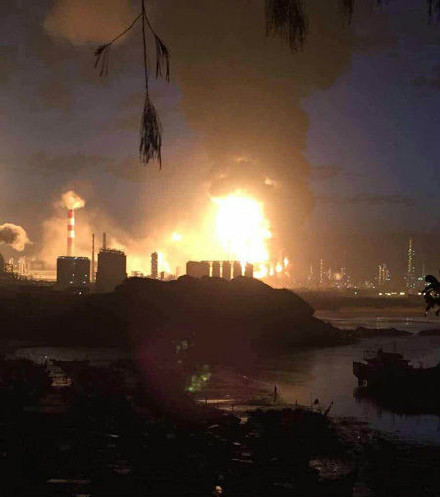 Photo posted online by Weibo users shows fire and fume rising to the sky at the blast site.
A PX(paraxylene) plant exploded Monday in the Zhangzhou Gulei Port Economy Development Zone, South China's Fujian province, according to media reports.
Local firefighters received a call for help at 6:58 pm and the rescue force is on the scene.
Bright flashes of flames are visible around the neighborhood and people within 50 km of the site could feel the quake of the blast, which continued for about five seconds.
No casualty has been reported so far.
This is the second time the PX project construction exploded. The first incident happened on July 30, 2013. The PX factory, owned by the Tenglong Firm in Zhangzhou, is the city's biggest foreign-investment project.