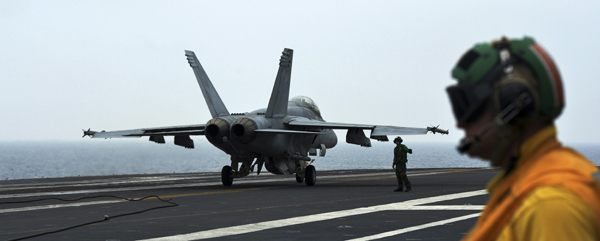 A US F-18 Hornet fighter jet lands on US aircraft carrier USS George Washington during a military exercise off the west coast of South Korea, in this July 16, 2014 file photo. [Photo/Agencies]
TAIPEI -- Two US navy F-18 fighters departed from Taiwan on Friday two days after a rare emergency landing at an airport in southern Taiwan due to mechanical problems reported by one of the jets, Taiwan's military said.
The pilots landed their planes at Tainan Airport, which is for dual use by military and civilian aircraft, at 1:19 pm on Wednesday after approval from the island's authorities.
US maintenance personnel arrived at the Tainan airport late Thursday and completed the work Friday morning.
The two fighters left for their base in Kadena Airfield, Okinawa after repairs were completed, a Taiwan military officer said.
Taking off from Japan, the fighters from US Marine Fighter Attack Squadron 323 (VMFA-323) were en route to Singapore to participate in Commando Sling, an air-to-air exercise with Singapore, when one of them had "a persistent engine oil pressure warning light," a spokesman for US Marine Corps said.