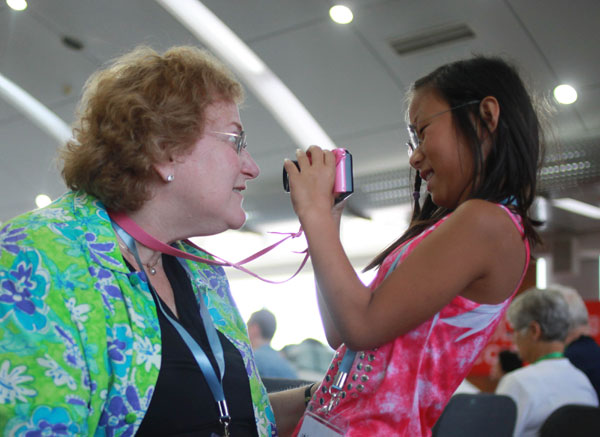 A woman from the United States plays with her adopted daughter at the China Center for Children's Welfare and Adoption.[Wang Jing/China Daily]
China remains the most popular country for parents in the United States to adopt a child, with 2,040 adoptions last year, according to US State Department figures released on Wednesday.
The report shows that adoptions of foreign children from all countries to US families dropped by 9 percent in the fiscal year 2014 that ended Sept 30, and has reached its lowest level since 1982-6,441.
That's down from 7,092 the previous year and from a high of about 23,000 in 2004.
Adoptions from China in 2014 totaled 2,040, down more than 10 percent from 2013 and far below the 2005 peak of 7,903.
Since then, China has expanded its domestic adoption program and sought to curtail the rate of child abandonment. It has also modified its one-child policy. At the same time, it has adopted more rigorous standards to qualify for the adoption of all children, including those with special needs.
Chuck Johnson, president and CEO of the National Council for Adoption, said the lower number of adoptions from China last year is more "a reflection of the number they're willing to do than anything else".
He said the type of children being adopted in the country has changed, with the majority now having a diagnosed special need. Most children who are abandoned fall into the special-needs group.
Johnson added that China's adoption program has historically been one of the most reliable for US parents.
The central authority, the China Center for Children's Welfare and Adoption, exercises "very strong oversight on the entire process," Johnson said. "It's been a little bit easier to work with the Chinese government than maybe some other countries because of the one central authority with one strong voice."
In addition to policies intended to promote domestic adoptions and foster care, some sentiment against adoption is emerging against adoption in countries like China and South Korea. The Wall Street Journal reported Wednesday that there has been an increase in US scrutiny of some countries, and of individual cases.
"The State Department focuses too much on making sure children aren't trafficked, without seeing all the excellent things intercountry adoption can provide," Bill Blacquiere, president of Bethany Christian Services, a national agency, told the newspaper.
Trish Maskew, the State Department's adoption chief, told the Journal that the US aims to protect all those involved in the process.
"It's very troubling for families to adopt a child they believe is an orphan, and then find out they are not an orphan," she said.
As international adoption has slowed, some agencies, including Michigan-based Bethany, have begun expanding domestic programs, the Journal reported.
Johnson said that, starting in April, the Alexandria, Virginia-based adoption council will launch a campaign-"I Choose Adoption"-to encourage US women with unintended pregnancies to consider adoption. In May, it will launch a campaign called "Families For All" to remind parents about foster children who are available for adoption.