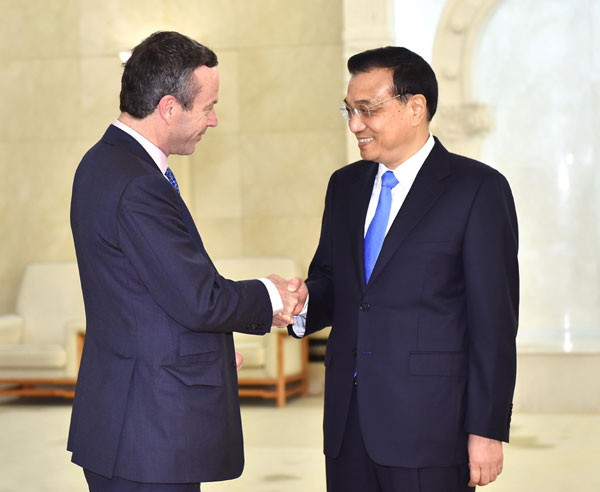 Premier Li Keqiang (R) meets Lionel Barber, editor-in-chief of Britain's Financial Times, at the Great Hall of the People in Beijing March 31, 2015.[Photo/Xinhua]
BEIJING -- Chinese Premier Li Keqiang met editor-in-chief of Britain's Financial Times on Tuesday, vowing that China will maintain stable and sound economic development and bring opportunities to the world.
Li told Lionel Barber that China is participating in the international economic and financial system constructively, and that its development is based on peace and reciprocity.
He expressed hope that the international media can report on China objectively to help the outside world understand the country.
"China is well positioned to realize a sustainable and sound development," the premier told Barber.
He noted that facing the economic downturn pressure, China is carrying out targeted regulation, cutting red tape and devolving power, so as to finetune economic operations.
He admitted that it is difficult for China, the world's second-largest economy, to maintain a medium or high speed of growth. He said the country will try to balance the needs of maintaining growth, promoting reform, structural adjustment, and improving people's livelihoods.
Li also answered other questions raised by the editor.
Barber said the international community is paying close attention to China's economic development and expects China to continue to play a constructive role in international affairs.