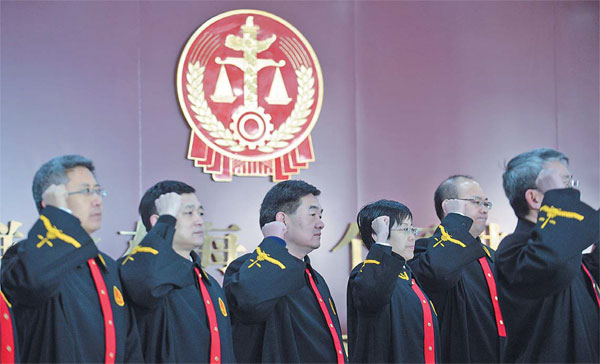 Judges from the Second Circuit Court of China's Supreme People's Court take their oaths of office. The court was established on Jan 31 in Shenyang, capital of Liaoning province. Mu Ying / China Daily
BEIJING - Chinese President Xi Jinping stressed that public confidence in the judicial system should be the ultimate gauge of the effectiveness of reform in this sector.
The president was speaking during a collective study session of the Communist Party of China (CPC) Central Committee's Political Bureau on deepening judicial reform on Tuesday afternoon.
Xi said that building a fair, efficient and authoritative judicial system is integral to the modernization of the state governance and governance capabilities.
He acknowledged that malpractice still existed, citing injustice and wrongful convictions. He added that if these problems were not addressed in a timely manner, they would hinder the progress of the rule of law, and damage social fairness and justice.
The country will not falter in advancing judicial reform and realizing social justice, he said.
The people have the final say on the effectiveness of judicial reform, Xi said, adding that the reform was supposed to boost public confidence and to solve problems. Public confidence and satisfaction are the evaluation criteria.
Xi identified the judicial accountability system as being crucial to reform. Judges and prosecutors must be held accountable for cases they handle for their entire lifetime, and their power should be checked and supervised.
He urged the Commission for Political and Legal Affairs of the CPC Central Committee and other authorities to meticulously plan and implement concrete and effective reform measures.
Xi also urged localities and departments to implement measures, and to ensure reviews are undertaken to identify potential flaws.
Moreover, Xi underscored the Party's authority as the leadership represents the basic characteristics and political advantages of the socialist judicial system.
"With judicial reform, we are still walking the road of socialist rule of law with Chinese characteristics," he said.
Xi also warned against copying the judicial systems of other countries, while acknowledging the need to learn from them.
Judicial reform should reflect the principles of coupling power with responsibility, checks of power, transparency and justice, as well as respect for procedures, Xi said.