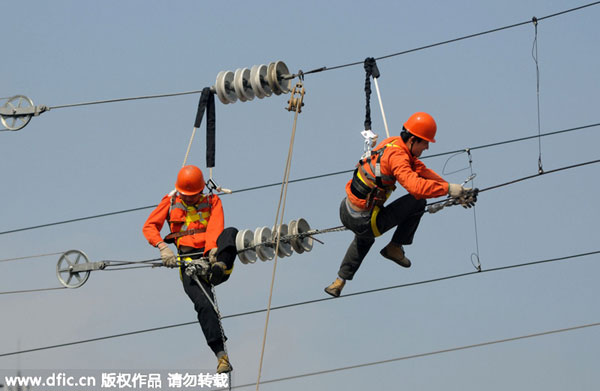 The workers do maintainence work on wires, March 13,2015. [Photo/IC]
NANNING - He does not have much interest in superheroes, but Miao Yingjiao has turned himself into one of China's "Spider-Men", the growing army who spend almost every night suspended high above the ground to maintain railway overhead lines.
After midnight, when local high-speed trains come to a halt, Miao climbs onto thin wires six meters above Laibin City of South China's Guangxi Zhuang Autonomous Region. Carrying a pair of pliers, he checks whether screws are in place and the lines are properly connected.
"My job is to guarantee that high-speed trains operate properly in the daytime," the 24-year-old says. "I have to be very careful because a single trivial mistake could cause a major accident."
Miao is one of many Spider-Men meeting the increasing demand for overhead line maintenance as the development of high-speed railways continues on the fast track. This group of workers came into the spotlight last week, when Chinese financial newspaper the Economic Daily featured Miao.
China had 16,000 km of operational high-speed railway lines, about 60 percent of the world's total, by the end of 2014, according to official data. And it is Spider-Men who help the trains stay safely on the track.
So it is with some understatement that Miao says "I think our job is quite important."
IT'S HARD TO BE A (SUPER)HERO
Being a Spider-Man has obvious challenges. The first thing you have to conquer is fear of heights.
"When I first started climbing up to the lines two years ago, I could feel my legs shaking, and I just wanted to quit," Miao says. "It took me a while to get used to it."
Wu Xiaoming, an overhead line worker in Longjia Airport Station in Changchun City, capital of the northeastern Jilin Province, says another challenge is adjusting to working in the night. In China, a moratorium is called on high-speed train operation for just several hours from midnight. That's when workers like Wu start their shifts.
"Each of us is typically on a four-day shift, working at night and sleeping in the day," Wu explains. He adds that cell phone signals and Internet connection are suspended where he works, as it is close to the airport.
"We literally live in isolation for four consecutive days," he shrugs.
The working conditions may be harsh, but there will be more and more need for Spider-Men in China. This year, the government plans to spend at least 800 billion yuan ($128.7 billion) on railway construction.
"It's true that my job can be tough sometimes," says Song Chao, an overhead line worker in Wuhan, capital of central China's Hubei Province.
"But it is worth it because I know that I am keeping millions of people safe."