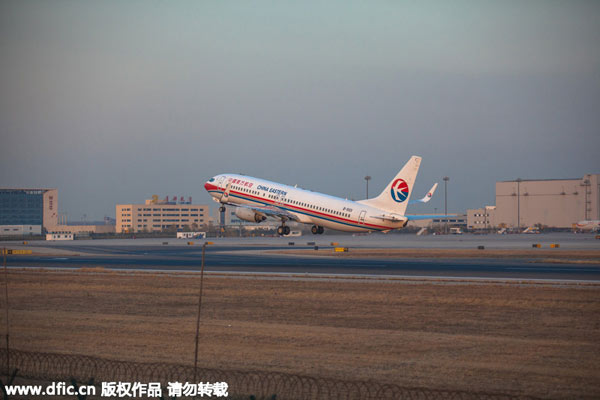 A plane of China Eastern Airlines takes off at the Beijing Capital International Airport in Beijing, China, Nov 22, 2014. [Photo/IC]
Beijing Capital International Airport leads other domestic airports in flight punctuality, although punctuality is generally a big problem for airlines on the Chinese mainland.
According to domestic air travel information service VeryZhun's report, airplanes taking off from Beijing were 73 minutes late on average in 2014, the shortest among cities in the Chinese mainland, reported the Beijing Times.
In 2014, passengers and crew members spent a total of 122 million minutes, or 232 years, waiting for their aircrafts, and the total delay time at China's airports reached 96.3 million minutes, or around 183 years.
In an earlier report, US-based air travel information service FlightStats said China's airports are the least punctual on earth.
According to VeryZhun, Chinese airports have an average on-time rate of 65.44 percent in 2014. The rate shot to 72.71 percent in March, the monthly record, and fell back to less than 60 percent in July and August, the worst months because of stormy weather.
Among the three domestic air traffic hubs Beijing, Shanghai and Guangzhou, Shanghai Pudong International Airport performed worst in 2014, with an on-time rate of less than 30 percent in July and an average delay of 113 minutes.
Having a smaller number of airlines doesn't translate into a higher punctuality rate, the report showed. The average delay at Tianjin and Shijiazhuang airports is about 20 minutes longer than the nearby Beijing airport, though the number of planes taking off from the capital is much larger than that of either airport.
Based on airplane type, wide-body aircrafts performed slightly better than narrow ones on punctuality, the VeryZhun report showed. Among the wide-body aircrafts, B747-8 by Boeing is most punctual, with an on-time rate of 93.21 percent.
It's followed by Airbus' A380, with a rate of 87.61 percent. Among the narrow-body ones, A321-200 and B737-400 performed better than other types.
Analysts said that airlines with a bigger passenger capacity are usually used to fly popular routes, and given a better time slot for taking off, which leads to their punctuality.
The report also showed that Grand China Air, Air China and Kunming Airlines led other State-owned air companies in punctuality. Xiamen Air is the least punctual.
Among the budget airline companies, Joy Air has the highest punctuality rate of almost 90 percent.
Analysts said that air companies' punctuality depends upon the number of aircrafts owned and the performance of the airports they are based in.