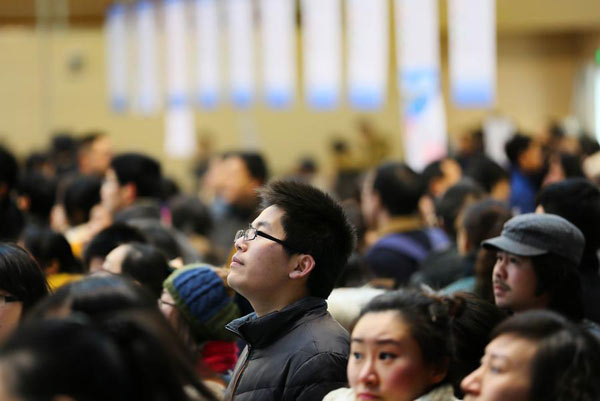 Job seekers at a job fair in Nantong, Jiangsu province, Feb 8, 2015. [Photo/Xinhua]
More than half of the graduates from renowned Tsinghua University have opted for a job outside Beijing for three consecutive years, a trend that shows the Chinese capital and its popular residence permit are losing their attraction among the elite young people.
A decade ago, however, more than 80 percent of the graduates from the Beijing-based university would land a job in the capital, and getting their household registered in Beijing was viewed as a must to enjoy the benefits of medical care, pension, children's welfare and other facilities.
Between 2012 and 2014, more than 50 percent of the graduates took up job in other provinces or cities instead of the capital, the Beijing Morning Post quoted Zhang Qiguang, director of students career development center at the university, as saying on Friday.
"Nearly half of the students graduating this year have landed jobs, and it's estimated that more of them will seek a job outside Beijing," he added. A total of 7,000 Tsinghua students will graduate this year, with about 4,000 of them expected to enter the job market, while the rest will try to pursue further studies.
The change in students' employment preferences and the city's population control policies are behind the move of more graduates opting for a job elsewhere, Zhang said, adding that the demand for a Beijing residence permit also slid in recent years.
Currently, the population in Beijing has surged to 21.54 million, and the city will allow a rise to no more than 21.8 million by the end of the year.
The capital also plans to control the size of its population and to have no more than 23 million people by 2020.
Students said they left Beijing partly because of its high living cost and better career opportunities in other areas.
Wang Yan, a PhD student at the university's architecture college, has decided to work in the urban planning sector in Sichuan province. "Neither my husband nor I am from Sichuan. But we chose the province because I am more suitable for a job on the grassroots level and there are more development opportunities there," she said.
Another graduate was quoted as saying that to stay in Beijing, a household permit was necessary, because it can help address a series of issues, such as buying house and car, and sending children to public schools.