A retired senior military official in Zhejiang province has been placed under investigation, news magazine Caixin reported on Tuesday.
Fu Yi, 62, former commander of the Zhejiang Military Area Command, was taken away by military authorities for investigation earlier this year, the report said.
It was not known whether Fu's case is related to the one involving Guo Zhenggang, deputy political commissar of the Zhejiang command and the son of a retired former vice-chairman of the Central Military Commission, the country's top military body, the report said.
Guo was placed under investigation in February for suspected violations of law involving a family land development business in Hangzhou that stirred repeated protests from local investors, according to media reports.
Creditors began gathering in front of the Zhejiang Military Command in Hangzhou in 2012 to demand that Guo repay money they claimed to have invested in two shopping malls operated by Wu Fangfang, Guo's second wife. The malls were built on land owned by the military.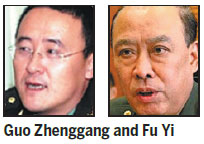 Wu acquired rights to develop the two shopping malls in 2007 and 2008 and attracted a large amount of capital from investors by promising them high profits. But he allegedly failed to honor his promises, as business in the two projects was gloomy.
Both Wu and Guo were detained in February for investigation, Caixin reported.
Some senior officials in Zhejiang were found to have meddled with land and property development for profit, Ji Lin, an official with the Central Commission for Discipline Inspection, China's top anti-graft body, said in November after a team sent by the commission inspected the province.
Wu and Guo visited Liquan county in Shaanxi province a few years ago with a fortuneteller to inspect Guo's former residence and family grave site. The psychic was supposed to tell the fortune of Guo's father, according to a report in Phoenix Weekly, and assured them Guo's father would have luck and be spared disaster.
China's military authorities announced earlier this month that 14 high-ranking military officials have been placed under investigation, bringing the total number suspected of corruption to 30 since the beginning of last year.
wangxiaodong@chinadaily.com.cn