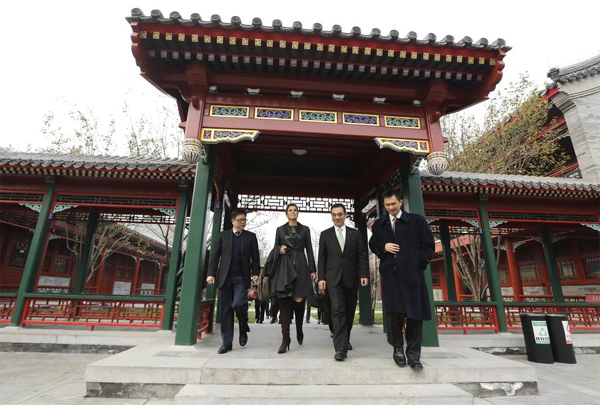 Netherlands' Queen Maxima (2nd L) and Justin Yifu Lin (2nd R), former chief economist and senior vice president of the World Bank, arrive for a speech at Peking University in Beijing November 26, 2014. [Photo/Agencies]
LONDON - Harvard University has again won the laurel of world's most prestigious university, while two Chinese higher education institutions Tsinghua and Peking also made good progress, according to the latest Times Higher Education World Reputation Rankings 2015.
Times Higher Education (THE) published the 2015 THE World Reputation Rankings on Wednesday, revealed a new round of the top 100 universities across the world.
Five Chinese universities entered the ranking. They include Tsinghua University, which moved to 26th from 36th last year, and Peking University, which rose nine places to 32. The THE said both Tsinghua and Peking secured their highest ever positions.
"This is a strong performance by China. Its two leading institutions have made gains in the reputation rankings, reflecting the country's commitment to developing world-class universities," said Phil Baty, editor of THE Rankings.
"China's growing stature should lead to further improvements, as a strong reputation helps universities to attract and retain more global talent and investment," he said.
The University of Hong Kong slipped out of the top 50 from 43rd to the 51-60 band, while National Taiwan University dropped to the 61-70 band, and Hong Kong University of Science and Technology also slipped a band to 71-80.
According to the rankings, the top ten universities are all located in the United States and Britain. Harvard University retained the first place, while Cambridge moved to the second from the fourth a year ago. University of Oxford stood at the third, up two places from the fifth last year.
New rankings showed the United States is the country with most higher education institutions -- 43 institutions in the top 100. Britain is the second with 12, and Germany ranked the third with six.
The highest ranking of Asian University was seized by University of Tokyo, which taking the 12th place, but dropped one from last year.
Different from the annual Times Higher Education World University Rankings, the Reputation Rankings are based on expert subjective judgment of those who know most about excellent teaching and research.
The 2015 World Reputation Rankings are based on 9,794 responses from 142 countries. The survey was available in 15 languages and was distributed based on United Nations' data to ensure that it accurately reflects the global distribution of scholars.