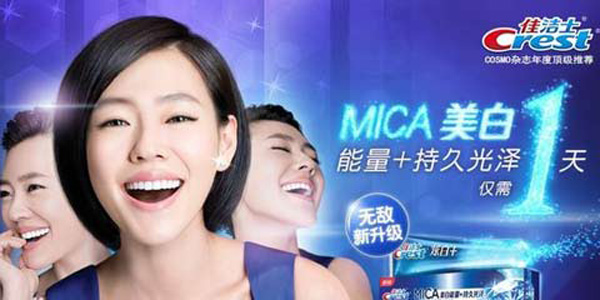 Taiwan television entertainer Dee Hsu grins to show the whitening effect of the Crest toothpaste in the TV commercial. [Photo/baidu.com]
A well-known toothpaste brand owned by Procter & Gamble has been fined 6.03 million yuan ($960,000) for its false TV commercial, the biggest amount that China has imposed on false advertising.
Eastday.com quoted Shanghai Administration for Industry and Commerce as saying on Tuesday that Crest exaggerated the whitening effect of one of its product, by photoshopping the advertisement.
The TV commercial features Taiwan television entertainer Dee Hsu, better known as Little S, who grins in front of the camera to show the whitening effect of the product. It also claims in the advertisement that teeth turn whiter in just one day.
Miao Jun, a sub director of the administration, was quoted as saying that the department enforced the advertisement law of China by slapping 6.03 million yuan fine, which was calculated on a certain proportion of the advertisement fee.
He said the photoshop technology can be used in advertisements but not on the main subject. Miao gave the example of a car advertisement, in which the landscape is allowed to be photoshopped to present a bluer sky or whiter cloud.
"But in the consumer goods sector, one must pay the price if making a false effect on the main subject," he added.
Along with Crest, the Shanghai administration revealed the names on Monday of a number of other brands involved in false advertising, including a liquor made by Wuliangye and a juice by Tahitian Noni.
In 2014, the Shanghai administration cracked down on a total of 2,716 illegal advertisements, including 1,906 false ones. A total of 74.77 million yuan fine was imposed, its figures showed.