COLOMBO - China has urged Sri Lanka to respect bilateral agreements and business contracts, and protect the interests of its investors following the suspension of a multi- billion-US dollar project, the Chinese Embassy said on Saturday.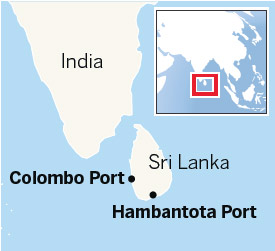 At emergency meetings with Sri Lankan Prime Minister Ranil Wickremesinghe and Foreign Minister Mangala Samaraweera, Chinese Ambassador Yi Xianliang also asked the Sri Lankan side to cherish the results of mutually-beneficial cooperation between the two countries, the embassy said.
The Sri Lankan government decided on Thursday to temporarily suspend the Colombo Port City project pending an investigative report ordered by Prime Minister Wickremesinghe. China Communications Construction Company, the Chinese firm involved in constructing the mega port city, had agreed to halt its work on the ground.
The Association for Sri Lanka-China Social and Cultural Cooperation, a civic group in Sri Lanka, demanded the government retract its decision as the Chinese-funded Port City has created job opportunities and benefited the local economy.
The 1.4-billion-US dollar project, which was built on reclaimed land, was part of a deal reached between Sri Lanka and China under the former Sri Lankan government. The new government which took office following elections in January had wanted a review on the project.