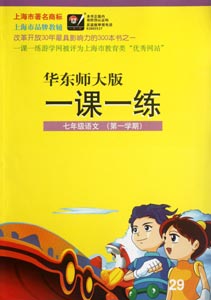 The cover of the Chinese version of Yi Ke Yi Lian.
LONDON - The news that a Chinese maths textbook will be introduced into Britain this summer has again caught the eyes of people in the education field, as well as the public, since the first group of maths teachers from China's Shanghai took part in an exchange project in Britain last year.
The supplementary textbook, One Lesson One Exercise, is a popular book for students in Shanghai for more than 20 years.
Earlier on Thursday, the publisher East China Normal University Press said, in January, it signed an agreement with HarperCollins to publish an English version of the book this summer in Britain, which would be named as One Lesson One Exercise of Shanghai Maths.
It said experts "familiar with both Chinese textbooks and British educational conditions are compiling the maths section on the basis of the pre-existing domestic edition", and some changes would be made as the education systems of the two countries are different. However, the difficulty won't be reduced.
So far, the number of schools and students who will use this textbook is unknown. Britain's Department for Education said, at this stage, it's a matter for the publishing company, and won't make any comments on this.
A Chinese man who required anonymous said he had noticed a very interesting phenomenon in his daughter's school and other schools in London, that most of Chinese students, even Asian students can get a higher scores than others in maths.
He said he learnt the news of Shanghai textbook on the Internet,
but he thought it's very complicated to judge whether the action would be good or bad for students in Britain.
"The introduction of the Shanghai textbook may play a part in improving local students' numeracy skills, however, I think local maths lessons place more focus on developing students' ability of inference and logical thinking, rather than the numeracy skills. They'd like to complete maths problems by tools, but not in particular require students to master of numeracy," he said.