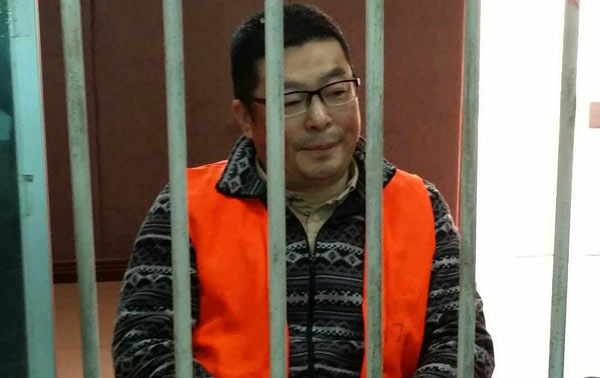 Leukemia patient Lu Yong in jail in Yuanjiang, Hunan province, in this 2014 file photo, after he was detained by police for allegedly selling counterfeit drugs. Hong Kefei/for China Daily 
The charges against a leukemia patient who bought unapproved cancer drugs overseas to treat himself and fellow patients were dropped on Thursday, reported Xinhua News Agency on Friday.
The procuratorate of Yuanjiang, a city in Hunan province, decided not to file a lawsuit against Lu Yong on the grounds that he did not make profits from buying the generic cancer drugs from India.
46-year-old Lu was diagnosed with leukemia in 2002. He was prescribed Gleevec, a Swiss-made cancer medicine that cost him more than 23,000 yuan ($3,500) a month, before he found a more affordable Indian make of the drug, which only costs 200 yuan a month.
Lu posted his experience online and soon drew the attention of many fellow leukemia patients who asked him to buy the medicine on their behalf.
However, medications unapproved by Chinese authorities are regarded as illegal in the country. Lu was arrested in 2013 on charges of selling counterfeit drugs and using an illegal credit card.
More than 3 million Chinese develop cancer each year and 2.2 million of them die, according to the World Health Organization. Many patients abandon treatment because they cannot afford it.
Related story:
This buyers' club needs all help it can get
By Ravi Shankar
When I first moved to Beijing a decade ago, healthcare costs came as a shock. Even allowing for the "premium" foreigners are charged for the privilege of easier access to doctors, they seemed out of sync with the general cost of living.
In Hong Kong, where I was earlier based, a visit to the GP cost a fifth of what I was paying here.
In India, for top-notch private care, it would cost a fraction compared to Beijing. An X-ray or an MRI costs a tenth of what I would pay here.