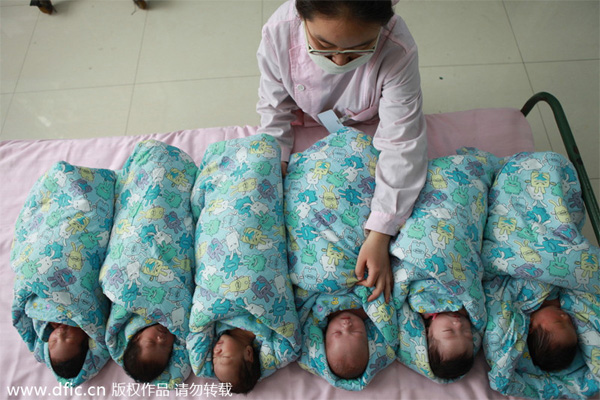 Medical workers take care of the newborns in the neonatology department in Yongnian county, North China's Hebei province, Feb 6, 2014. In the first seven days of the Year of the Horse, (Jan 31 to Feb 6 in 2014), the hospital welcomed 126 newborns, with blessings and an extra workload. [Photo/IC]
The Chinese population reached 1.3678 billion at the end of 2014, up 5.21 percent from one year earlier, according to official data from Statistical Communique on China's 2014 National Economic and Social Development published on Thursday.
According to the National Bureau of Statistics, 7.1 million people were added to the national population in the past year. The data takes into account the total number born, 16.87 million, and offsets it with the dead, 9.77 million.
More than half of the people that took part in the census live in urban areas as the total number of urban residents reached 74.9 million, making up 54.77 percent of the population.
Migrant workers, totaled 253 million, remained the chunk of the population who don't live in the places where their household registrations are kept.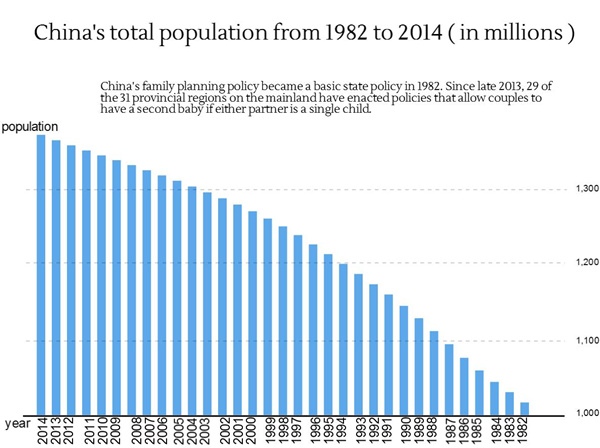 Chinese population from 1982 to 2014. Click for graphs in higher resolution.[Photo/chinadaily.com.cn]
Related: Relaxed birth policy to see effect
China is expecting at least one million more births in 2015 than last year, as a result of policy changes.
A total of 16.9 million new citizens came into the world in 2014, 470,000 more than in 2013, said the China Population Association (CPA) on Monday.
According to the CPA, since the 1990s, the annual number of newborns has decreased from more than 20 million to around 16 million. The lowest number was 15.8 million in 2006.